Highlights at AEJMC Include SOC Faculty Awards, Dean's Reception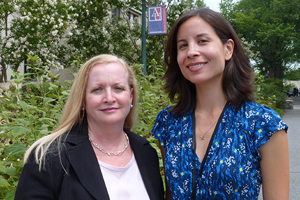 Faculty of American University's School of Communication have a high profile at the annual conference of the Association for Education in Journalism and Mass Communication Conference, which meets in Chicago from August 9–12 and marks the organization's centennial.
During the conference, SOC faculty will accept top awards for research papers, lead and participate in a variety of panel presentations, and welcome fellow-conference goers to a reception for the School's new Dean, Jeffrey Rutenbeck.
The reception will be 7–9 on Friday evening in Chicago Ballroom E at the conference hotel. Rutenbeck, a media historian and communications technology expert, began his deanship July 1. He comes to AU from Champlain College in Vermont.
SOC's impressive presence at AEJMC "reflects the ongoing outstanding work by many SOC faculty, in journalism, communication studies, and public communication," said Professor W. Joseph Campbell, who has attended AEJMC conferences since 1995. "Particularly notable are the award-winning papers by two of SOC's tenure-track faculty."
Research awards
The authors of those papers are Assistant Professor Angie Chuang and Assistant Professor Wendy Melillo.
Chuang's paper, "The DC Snipers and Shifting Signifiers of Otherness: Newspaper Coverage of John Allan Muhammad and John Lee Malvo," was written with AU Assistant Librarian Robin Chin Roemer and won the top faculty paper award in AEJMC's Minorities and Communication Division. They will present their collaborative paper on Friday afternoon.
This marks the third successive year in which Chuang has been recognized for her research by the Minorities and Communication Division. In the past two years, her papers received the division's third place faculty award.
Melillo's paper, "The Struggle for Men's Souls: Tracing Cold War Liberation Strategy in the Crusade for Freedom Campaign," is the runner-up in the History Division's faculty paper competition. Melillo also will present her paper Friday afternoon.
Special events
Campbell will preside Friday morning at the meeting of the chapter advisers of Kappa Tau Alpha, the national honor society recognizing high academic in journalism and mass communication. Campbell is national president of KTA and adviser of AU's KTA chapter. He also will preside at the annual KTA-AEJMC awards luncheon at midday Friday. That event will represent the completion of Campbell's two-year term as KTA president.
At midday Saturday, the SOC-based J-Lab will convene its annual AEJMC luncheon. J-Lab Director Jan Schafer will moderate a panel discussion during the luncheon about journalism schools becoming incubators for entrepreneurial news startups. The panel, supported by a grant by the Ethics and Excellence in Journalism Foundation, is titled "New News Labs: The Rise of University News Startups."
SOC faculty also will have roles in pre-conference workshops on Wednesday. Associate Professor John Watson will discuss "The Not So Subtle Racism of Presidential Politics" at workshop of the "Ethics of Politics," sponsored by AEJMC's Media Ethics Division and the Political Communication Interest Group.
Also during pre-conference day, Chuang will participate on a panel sponsored by AEJMC's Task Force on Recruiting for Academic Diversity. The panel is titled: "What Does It Take to Make the Transition Work? Models and Needs."
Doctoral students to present research
The first of two paper presentations by SOC doctoral students will be on Thursday, the conference's official opening day. Jamie Schleser, a second-year PhD student, will present a research paper titled, "Something Old, Something New: Convergence Culture, Lifestage Marketing, and The Knot, Inc." at a paper session sponsored by the Advertising Division.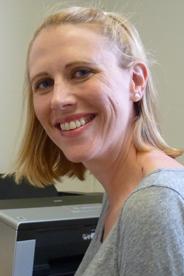 Another SOC doctoral student, Sarah Merritt, will present her paper, "How the Visual Fits into the Framing Process" Saturday afternoon at session sponsored by AEJMC's Visual Communication Division.
"It's really terrific that two of our doctoral students will be presenting at the conference," Campbell said, noting that SOC's PhD program was launched just last year. "Their work is quite impressive."
More faculty presentations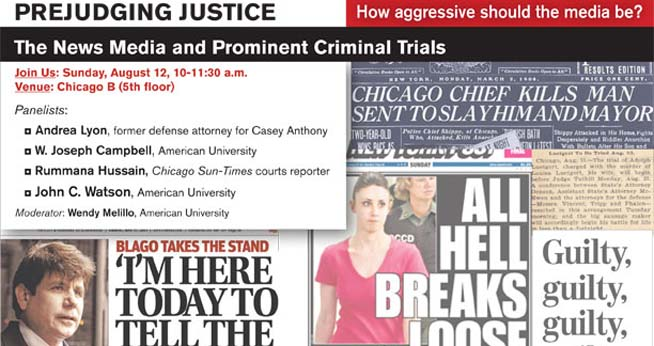 On Thursday morning, Assistant Professor P. Sol Hart will present a paper with co-author Lauren Krizel, a recent AU graduate in Public Communication, at a session sponsored by the Communicating Science, Health, Environment and Risk Division. Their paper is titled "Metaphors in Science Communication: The Influence of Metaphors on the Public Perception of Introduced Species."
Hart will present another co-authored paper later Thursday. The paper is titled "Attitude Change in Competitive Framing Environments? The Moderating Role of Open/Close-Mindedness on Framing Effects About Global Climate Change" and will be presented at a session sponsored by the Communication Theory and Methodology Division.
Also Thursday, Assistant Professor Deen Freelon will present a paper titled "Discourse Architecture, Issue Stances and Democratic Norms in Online Political Discussion" at a session of the Political Communication Interest Group. On Saturday, Freelon will be the discussant for five other Political Communication research papers.
SOC faculty will be conspicuous as panel presenters, too.
Associate Professor Rick Rockwell will discuss media developments in Central America Thursday afternoon at a panel organized by the International Communication Division. The panel is titled: "A Century of Journalism and News Media in Latin America and the Caribbean."
Assistant Professor Angie Chuang will moderate a panel, "Journalists and Fair Use" on Saturday afternoon. She will be joined by a former former staff writer at The Oregonian, The Hartford Courant and the LA Times to discuss the results of a key new study, showing the costs of misinformation and confusion to journalists who don't know their rights. Chuang will announce the creation of a new tool that makes teaching journalists about copyright that much easier.
Professor Rodger Streitmatter will participate Saturday afternoon on a panelist title "Theories and Methods in GLBT and Entertainment Studies." The panel is sponsored by the Gay, Lesbian, Bisexual and Transgender and the Entertainment Studies Interest Group. Later Saturday afternoon, Streitmatter will present a paper, "An Eminent Illustrator and the Man Behind the Man: J.C. Leyendecker and Charles Beach," at a GLBT research session.
SOC's presence at AEJMC runs through Sunday, closing day of the conference.
On Sunday morning, Assistant Professor Carolyn Brown participates in a panel that she proposed, "Immigration and the Media: New Research and Journalism Practice in the U.S. and Mexico." The session is sponsored by the International Communication and the Minorities and Communication divisions.
Later that morning, Campbell and Watson will participate in a panel that they developed, "Prejudging Justice: The News Media and Prominent Criminal Trials, 1897 to 2011." Melillo will moderate the panel, which is sponsored by the History and the
Law and Policy
divisions as well as the AEJMC
Council of Affiliates
.
Also Sunday morning, Assistant Professor Lauren Feldman will moderate a research paper session on "Campaigns and Elections," sponsored by the Political Communication Interest Group. Feldman last year was elected research chair of that interest group. 
Professor's work chosen among top 50 articles to have appeared in AEJMC flagship journal
Professor W. Joseph Campbell's myth-busting study in 2000 has been chosen one of the top 50 articles to have appeared in Journalism & Mass Community Quarterly and its predecessors since the journal was founded in the early 20th century.
The selection of "the top 50 classic" articles was announced at AEJMC. The top 50 articles were selected to help mark AEJMC's 100th anniversary.
Campbell's article, "Not Likely Sent: The Remington-Hearst 'Telegrams,'" challenged as implausible one of American journalism's best-known anecdotes — the tale of William Randolph Hearst's purported telegraphic exchange with the artist Frederic Remington, in which Hearst supposedly vowed to "furnish the war" with Spain at the end of the 19th century.
The AEJMC conference next year will be in Washington, D.C., from August 8–11. For the 2013 conference, SOC faculty are expected to propose and develop programs that will tap the exceptional research resources of the capital. 
AEJMC last met in Washington in 2007.