AU PRSSA Hosts Regional Conference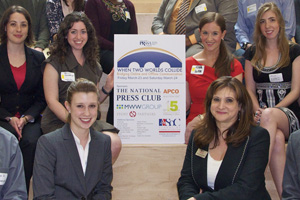 The Public Relations Student Society of America's chapter at AU hosted a Regional Conference from March 23-24. The conference, "Two Worlds: Bridging Online and Offline Communications," helped put the changing word of public relations in perspective and give advice to students about the meeting of traditional and new PR strategies. Students from 15 schools attended to see speakers and panels, as well as to participate in a career fair and a case competition. The wrap-up below was compiled by AU PRSSA members Kate Froehlich, Nicole Charpentier, Quentin Hoffman, Megan Clark, Kim Short, Steven Murphy, Chichi Motanya, Jenna Mosley, and Olivia Wolfertz.
Keynote 1: John Bell from Social@Ogilvy
Bell kicked off the conference by emphasizing social media's impact on businesses, using Ford and IBM as examples. He said that it is necessary to think as business leaders, not just communications majors when creating social media strategies.
Keynote 2: Drew Hammill, Press Secretary for Nancy Pelosi
Hammill talked about his use of social media creating a video that went viral, trying to bring attention to a bill, the Disclose Act. In what became a social media favorite and also got media attention from traditional outlets, Pelosi went after Stephen Colbert's Super PAC.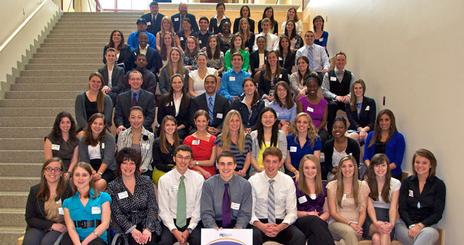 Students from 15 schools attended "Two Worlds: Bridging Online and Offline Communications"
Crisis Communications
Eliot Benner has a long history in the field of communications, working currently as the spokesman for the Nuclear Regulatory Commission. Benner advised people to plan, prepare, and practice before a crisis, as well as to communicate early, often, and clearly, using his experience dealing with the nuclear crisis in Japan as an example.
Political Communications
A veteran of strategic communications in Washington D.C., David Tamasi discussed the forthcoming election and the future of political communications. According to Tamasi, the media will play a great role in this election- it will reward a strong PR campaign and penalize public mistakes.
Personal Branding
Speakers Ashley Wolos, Jess Noonan, and Melanie Batenchuk shared the importance of social media in representing your personal brand. Topics in the session included the role of social media in the professional world, networking on and offline, maintaining your personal brand, and the importance of the balance that exists between the social and professional aspects of social media.
Digital Ethics
Anthony LaFauce talked primarily about ways in which new media affects the marketing world. One of LaFauce's main points was that social media sites are more public than most people think, and that what you say about yourself or a brand can be seen by more people than you know.
Social Marketing
The speakers talked about the roles that social media and advertising play in social marketing. They emphasized how important it is for companies to remain consistent with all of their messages and advertising to keep their mission strong. The speakers also relayed the value of social media as a way for firms to spread awareness to gain short-term influence and can help build a long term relationship with the community.
PR and Culture
In Sam Eskenazi's session, attendees learned about the communication efforts needed for the unique realm of cultural museums and institutions. Taking on a greater sensitivity to societal cultural issues that may arise, Eskenazi shared perspectives from his work with the United States Holocaust Museum and his current work to create the National Museum of American People.
Online Media
Derek McGinty, a weekday news reporter for 9News, started off the session by talking about how social media has changed, and the two most prominent changes: speed and social interaction. His main tips were to network because who you know is extremely important in the world of public relations, as well as keeping words and ideas as simple as possible.
Sports and Entertainment
A panel discussed how sports PR is all about business, and the idea that one must separate being a fan from a professional while working in the field. Be prepared to work hard, be competitive, and move from city to city in this field.
Nonprofits
Steph Woods gained her notoriety through her City Girl's Blog website and has used her knowledge to advocate and consult with nonprofits such as Capital Breast Care Center. She shared her knowledge about the role of the Internet and social media for nonprofit organizations. Interested, but couldn't attend the conference? She'll be teaching a summer course called Activism and Social Media!