Alumni
Alum Reps Facebook on Capitol Hill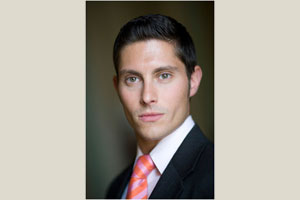 Andrew Noyes, SOC/BA '02 MA '03, has cemented his place in Washington's digital sector, landing his latest job as the new public policy communications manager for Facebook.  
A native of Beckley, W.Va., Noyes graduated from the School of Communication not once, but twice with a BA in public communication and an MA in journalism and public affairs.  He has more than a decade of journalism experience under his belt, covering breaking news, business, politics and human-interest topics.

Noyes combined his journalistic experience with his knowledge of public communication, working in public relations and public affairs consulting, including a stint at the National Education Association.  
His recent decision to leave journalism for public affairs seemed like the logical plan. "Ultimately, it was the ideal next step in my career," he said. "I have covered technology and telecommunications policy for a number of years, gaining valuable insight into data security, intellectual property, privacy and related fields and these attributes will serve me well in my new role at Facebook."

Noyes's political and feature reporting has appeared in magazines and newspapers around the country. His last assignment was as a staff writer for National Journal's CongressDaily where he covered a range of topics including intellectual property policy, civil liberties and Internet governance issues. He also authors Tech Daily Dose, a companion blog for CongressDaily that takes readers inside the corridors of the Capitol.

Noyes says the success of his Washington journalism career was the result of his great academic experience at AU. "The professors, unique array of course offerings -- and close proximity to experts in the nation's capital -- provided a smorgasbord for a hungry young journalist," he said. "The skills I learned in the classroom at AU were supremely practical."

Noyes says skills like asking lots of questions and never taking "no comment" for an answer helped him succeed in his writing and blogging career.

In May 2006, he returned to SOC as an adjunct faculty member teaching Writing for Mass Communication.  "Returning to AU to teach was always part of my game plan. I couldn't wait to give back to an institution that gave me so much," said Noyes. "Being able to teach in the same classrooms I sat in as a student not that long ago is a fantastic experience."

Noyes's face and name are familiar in D.C. media circles. He has been featured on  C-SPAN's popular political morning program, Washington Journal. He guest hosted The Communicators, C-SPAN's weekly show on tech and telecom policy and appeared on The Kojo Nnamdi Show and The Bryant Park Project on National Public Radio.

Noyes has provided commentary for Federal News Radio, MSNBC and MSNBC.com, saying one of the perks of covering a beat is that one becomes an expert in the field. "Being a guest on television and radio chat shows is icing on the cake."