Ayofemi Kirby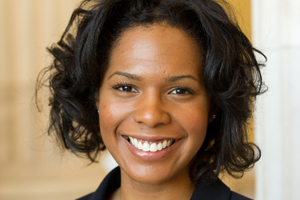 What were you hoping to get out of the program SOC Professional Masters MA program?
As a communications professional and before applying to American University, I felt I understood what worked in developing effective messaging and campaigns, but I didn't always understand why they worked. I'd studied Journalism and Mass Communication as an undergraduate student and I was familiar with techniques and strategies, but I wanted have a deeper understanding of communications as an academic discipline. I also wanted become more familiar with the ways other fields of study influenced the success of communications campaigns. I hoped to gain this understanding from my graduate experience at AU.
How did the cohort experience add to the value of the program?
Having students with a reputable career history from which you can learn was extremely helpful. Most of us began the program with 3-5 years of work experience, so we could immediately place concepts within a practical frame. Also, within the first few weeks of class, my cohort felt like a family. As working professionals and older adults, much can happen within two years. The cohort style-program provides a built in support network where your classmates and your teachers understand you may be juggling more than schoolwork and extracurricular activities. We really took the time to get to know each other and were able to depend on one another for help and support in and out of the classroom.
What is one lesson you learned at SOC that you apply in your work today?
That communications is never really about the communicator – it is about the people the communicator is trying to reach. This means researching to understand audiences and the environment in which they operate is critical. Often, organizations trying to create effective campaigns primarily focus on how innovative or satisfying their messages are internally rather than knowing if their audiences will be receptive to it. Knowing our audiences requires a different approach to engagement which includes research, empathy and the willingness to be wrong and make adjustments. This is an important lesson I learned at AU that think about and do my best to apply every day.
Is there any one course or faculty member that had a particularly strong impact on you? If so, which course/professor and why?
All of my professors in the program were exceptional. But if I had to choose one it would be Dr. Rhonda Zaharna. Her theory class was the most challenging personally and academically as she required us to use our curiosity and creativity to synthesize and develop new ideas from existing ones. She was less a teacher and more a guide, which I really appreciated in the program.
What type of student do you think would most benefit from what the Professional MA in Strategic Communication has to offer?
To benefit from this program, students must be disciplined, committed and willing to ask for help. Most of the weekend students have been out of school for a considerable amount of time, so getting back into "study mode" can be a challenge. Students must be prepared to give up late nights out with friends, sacrifice time with family and be ready for long nights reading and writing. To be successful students must also be willing to ask for help. There will be days you miss class, fail to understand an assignment, or times when you're going through something personally or professionally that can cause you to lose focus. The type of student that gains the most out of this program will understand that thanks to the people around them, he or she won't have to figure any of it out alone.