Corinne Hoare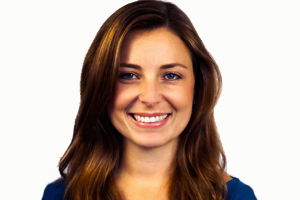 What were you hoping to get out of the SOC Professional Masters MA program?
My goals for completing the SOC Professional Masters MA program were to create a framework or structure from my professional public relations experience. For example, during my service working in both the legislative and executive branches of the government, I created public relations plans and executed crisis communications under the gun and under pressure. Through this program, I learned the appropriate framework for executing these types of communication skills.

How did the cohort experience add to the value of the program?
I would not have been able to make it through the program without the support system the cohort provided. Due to the fact that most of us had full-time jobs and among other things, were married, had children throughout the 20 months, we understood and supported each other throughout the ups and downs. It takes a lot of effort to come to class on a Saturday morning after a long week at work, but looking forward to being in the company of such an intelligent and diverse group of individuals certainly helped all of us get through it together.
What is one lesson you learned at SOC that you apply in your work today?
There are so many! I really learned a lot about time management. After thinking multiple times that there just aren't enough hours in the day, I seemed to always accomplish my tasks and meet deadlines. In addition to creating a framework for executing strategic communications plans, I learned a lot about new trends in public communication and how to implement them in the workplace such as Social Media News Releases and Search Engine Optimization.
Is there any one course or faculty member that had a particularly strong impact on you? If so, which course/professor and why?
Public Communication Theory was definitely the most challenging and most rewarding course. Dr. Rhonda Zaharna was tough but she taught me how to clearly articulate my points through numerous writing and research assignments. She also guided students toward writing about topics that interested them.
What type of student do you think would most benefit from what the Weekend/Professional MA in Public Communication has to offer?
My cohort was extremely diverse. We were comprised of people from different countries, backgrounds, ages, and political affiliations. Some had a lot of work experience and some only had a few years. The reason why I enjoyed the program so much was because of this diversity. Every one of us took away something different out of the program so it wouldn't be fair for me to generalize the type of student that would benefit from it as a whole. It is not an easy program. But if you're willing to challenge yourself and to improve your public communication skills in a supportive and dynamic environment, this program is for you. After all, the most rewarding things in life are not always the easiest!