Stephany Greene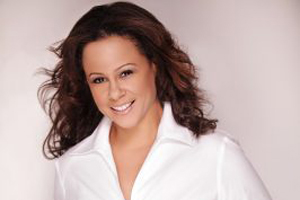 What were you hoping to get out of the program SOC Professional Masters program?
To be quite frank, I was only hoping to get a piece of paper out of the MA program. But I promise the story gets better!
At the time when I applied, I was being forced to pursue a Masters degree by my employer. I had founded the Fashion Merchandising Program at the University of the District of Columbia, and in order to keep my position as the lead professor in charge of teaching the fifteen courses I developed, the university's "powers that be" required me to earn a Masters degree. I had already taught fashion courses at other universities, and as a fashion designer with 20+ years experience, the fashion industry always hired me based on my resume, so I never needed an advanced degree to succeed before. So I delayed it as long as I could and eventually I gave in.
Once I committed myself to getting a Masters, I researched long and hard for a program I could get a lot out of whether I was employed in academia or not, whether I was a professor or not, and even whether I was a fashion designer or not. I really wanted to major in something that would enhance my skill sets, and support my professional endeavors no matter what I decided to pursue with my career, and I especially wanted it to help me take my company and my book to another level.
My former boss at UDC, Dr. Les Vermillion, mentioned that in his observations of my lobbying to launch the fashion program, and recruit students into it, he noticed that I had a naturally affinity for public relations. He suggested that I get my degree in PR. It wasn't until then that I examined my life to realize he had seen things in me that I had never noticed in myself. In addition to working full-time, I have been President of my own firm, Stephany & Company, LLC for too many years to count. Along with being a designer at heart, more than anything I'm an entrepreneur. I realized that throughout the years, I had done a lot of my own public relations, and I had worked with publicists who did PR for me. But...I wanted to learn how to do it better. I wanted to learn how the big boys (and girls) in fashion make themselves into giants.
I wanted to go to a school that was known for being the best, with professors who had real life experience in the field. I'm also a single Mom. I couldn't attend class during the evenings during the week. There aren't a lot of choices for Saturday programs out there - at least not a lot that are reputable, and worth investing the time, and tuition. As soon as I discovered American University's program I knew it was the right one for me.
How did the cohort experience add to the value of the program?
In the beginning Darrell Hayes used to tell us as a cohort, that we would be in a special position to develop friendships and lean on each other, because all 20 of us would be going through the same things at the same time. Indeed he was right. I love my cohort! I've often thought (and my cohort has discussed this with each other) that they hand picked us because we had such similar personalities. It's one thing to go to class once a week just because you've got to be there. It's another thing to actually like the people you're in class with. Within a few months, I looked forward to seeing everyone every Saturday. We didn't always agree on everything, but we respected each other's opinions. I believe we grew to become even better human beings during those two years. We've even gotten together for mini-reunions a few times, as early as one month after graduation. I feel closer to the people in my cohort than most of my classmates in high school and undergrad. I even met my publicist, Lisa White, in my cohort at SOC! Lisa and I realized we could go great things together, and we are!
I was also surprised by something else. Being a single Mom who works full time, my life is crazy busy during the week. One day in class I realized it was the only time I had "to myself" every week. I began to enjoy the routine of sitting still, and learning about things I was truly interested it (most of the time).
What is one lesson you learned at SOC that you apply in your work today? I hope I can say I learned two lessons. One is professional, and the other is personal.
With regard to work and my professional career, I learned how to develop a public communication plan from a strategic point of view. Anyone can draft a press release, or Google how to do it. But SOC taught me how to strategize public communications from the stage of initial conceptual planning, to the behavior and/or market changes I want to achieve. Now I can forecast how my public communications and marketing campaigns will evolve over time, and I can come close to predicting the long term outcome as well. I utilize these skills constantly for Stephany & Co, and to re-brand my family's company, BPC, as their Sales Rep and Brand Manager. In addition, as an author, I have used these skills to develop new public communications plans that are taking my book's presence to new heights as well.

The personal lesson is that I can do ANYTHING! I'm not alone in saying this. My cohort and I often discussed this with each other. Most of us worked full time, some of us balanced families, children and spouses, and we went to school for two years straight. Some suffered deaths in their families, some of us experienced personal tragedies, heart break, health issues, and other life circumstances no one can predict or prevent, and we still did it! Quite often lately, I'll be hanging out and having fun with my son on Saturdays, and I feel like I'm playing hooky. I'll have sudden thoughts like "Oh no! Aren't I supposed to be doing something? Don't I have an assignment? Is it ok for me to relax?" I love when the answer is yes! I will never take Saturdays or my free time for granted again. I don't know how I did it. I wouldn't want to do it again, but I'm glad I did.
Is there any one course or faculty member that had a particularly strong impact on you? If so, which course/professor and why?
When I was trying to decide where I wanted to apply, I attended two information presentations at AU. Darrell Hayes had such a professional, but nice demeanor. He really seemed to care. My instincts were right, because over the course of two years, it was always very clear that he really does care about his students, the program, and AU.
Then when Darrell retired and Dina Martinez took his place, I was apprehensive about what she would be like. Darrell had been so great so I was nervous about Dina. She was just as wonderful as Darrell! When my book was published in September, Dina even attended my book signing. She is the real deal, and SOC students are fortunate to have someone who cares as much as Dina does.
Professor Zaharna enabled me to experience one of the most surprising challenges and changes of my educational career. I really do not like theory. I don't theorize about anything. I dreaded her class. To me, there was no point in taking Theory. I can finally admit it publicly now that I have my degree! Theory was by far the toughest course for me. At one point I was worried I wouldn't make it through. Zaharna gave me as much scholarly guidance as she could. She also cared tremendously. We even met for an hour in her office when I was at my wits end. What she didn't know was I had a mini breakdown a few minutes before our meeting. I had panicked, and I was a mess. Professor Zaharna was so gracious. Her ways were sometimes hard to understand, but somehow they always led me to the light.
Then when I had her again for the Capstone class, it was indeed challenging as well. I wasn't sure about the direction of my Capstone. She helped me find a subject I was passionate about. She always said "You'll know it when it hits you." And she was right. The title of my capstone was "The Effects of Artifactual Dress and the Psychology of Style on Non-Verbal Communication and Public Behavior." I was passionate about it, and most of the time I enjoyed researching it. I just wish we had even more time to do more research!
Dr. Zaharna started out being my least favorite professor, and she ended up as my favorite professor.
What type of student do you think would most benefit from what the Weekend/Professional MA in Public Communication has to offer?
As I mentioned, I'm single Mother. Attending class during the evenings during the week was going to be impossible for me. I didn't even know Saturday programs existed at first. I thought I was going to have to figure out how to rearrange my work schedule and my son's schedule around evening classes. I even considered an online degree. But once I decided to get an advanced degree, I figured if I'm going to invest two years (and a lot of money) anyway, I want it to be from a top program at a top school. There are very few online programs that are reputable, and worth the time, and tuition. AU was and is the best.
To me the type of student who would benefit from the Weekend/Professional MA in Public Communication is a student who already has some experience in their career. The type that has experience is more likely to appreciate and be able to implement the things they're learning into their lives and into the assignments that are required to get the most from the program. The student could also be someone like me or someone who works a lot during the week, where they would need a program on the weekend. And a student who thinks strategically. If they're someone who can think outside the box, then they'll get a lot out of the SOC program. So after all, my former employer did me a favor. I'm no longer there, and I'm happy as a clam. I will always have a Masters degree from the SOC at AU. Using Public Communication at AU to think and act outside the box is one of the best gifts I was ever given, and one of the best gifts I could have ever given myself.