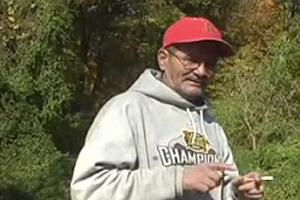 Mitchell's Story

A deaf homeless man in DC tells us how he survives. Produced by Bridget Klein in conjunction with the Community Council for the Homeless at Friendship Place. Watch video
The Only People in Town

[T]he film exists as a testament to the exemplary quality of the instruction, scholarship, and commitment to critical social issues present at American University. The film validates the significant educational work completed in and out of the classroom by the students and instructor. We look forward to the opportunity to collaborate with the University again. Watch video
More stories from Washington, D.C.

A Place on the River
Historical piece on the east coast's oldest African American boating club: the Seafarers' Yacht Club. (Video)
Beyond the Headlines and the Numbers: Voices from Anacostia High School
Students from Anacostia High School in Washington, D.C., challenge the stereotypes of their institution. (Video, article)
Carecen
This short film highlights the work of Carecen (the Central American Resource Center) in the face of the housing crisis. It focuses on Carecen's work to empower Latino families through tenant organizing, education and advocacy, and access to affordable housing and home ownership. (Video)
Carolyn Darley
In this short profile, Carloyn Darley tells the story of her journey from a home and family, to homelessness, and then to a home of her own, through her own perseverance and the help of a very special organization-- the Community Council for the Homeless at Friendship Place. (Video)
Connected by Design
A story by Brenda Richardson, her life as an eco-feminist, and her link to the Anacostia. In collaboration with Erika Baumann and Allison Arlotta. (Video)
DC Youth Orchestra Program
"The DC Youth Orchestra Program accepts all students and provides them with music classes and ensemble training for those who wish to participate." (Video)
Giving Them Strength
Martha's Table, a DC community center that runs youth and food programs, explores new ways to help the needy. "[Student filmmakers] caught the spirit of much of what we do here and we will be able to use their work to help orient new volunteers, to share with donors…to help with fundraising and tell the community who we are and what we do." (Video)
Good Jobs Nation: Wilfredo Reyes
Arriving from Guatemala with the dream of bringing his wife and children to the United States, Wilfredo tells his story of loss, struggle, sacrifice …. and stubborn hope, as he joins his fellow workers to raise their meager earnings to livable wages.
Hair Braiding in the Columbia Heights Community
Nubian Twists, Kinky Twists, Cornrow, Senegalese Twists, Banku Knots and the Nubian Corkscrew represent just a few of the African braid styles worn by many African American women living in Columbia Heights, Washington, D.C. (Article and Video)
Looking Both Ways: H.I.P.S.
A profile piece on one DC non-profit that is fighting the AIDS epidemic among transgender citizens. (Video)
Restorying the Anacostia
By Emma Boorboor, Danny Peters, Rasheda Kahn (Video)
St. Elizabeths Hospital
Students in the Unseen Unheard course produced a documentary on the historic hospital. (Video)
The Only People in Town
[T]he film exists as a testament to the exemplary quality of the instruction, scholarship, and commitment to critical social issues present at American University. The film validates the significant educational work completed in and out of the classroom by the students and instructor. We look forward to the opportunity to collaborate with the University again. (Video)
The Story of Forrest. The Story of Joel.
Two boys' experience at the Sitar Arts Center in the Mt. Pleasant neighborhood. (Video)
A Digital Story by Rodney Stotts
A story by Rodney Stotts, an ex-drug dealer, falconer and environmentalist, about the trials and tribulations involved in cleaning the dirtiest places. In collaboration with Kady Buchanan. (Video)
Brainfood. Eat. Learn. Cook.
"[The film] tells the story about our organization that we can share with future students, potential volunteers, funders and board members." (Video)
Friendship Place: Phillip Black
Phillip Black found himself homeless when he was down on his luck. After falling into depression trying to cope with this realization, he eventually found Friendship Place. (Video)
Good Jobs Nation: Alexis Vasquez
A high school student with stellar grades, Alexis gives up his dreams of becoming an architect to help support his family by taking on two fast-food jobs. Faced with low pay and no benefits, he joins his coworkers in the fight for a livable wage, and finds his voice in the process.
Good Jobs Nation: Jerome Hardy
Working for years as a short-order cook at a Pentagon fast food outlet, and barely getting a raise, Jerome Hardy joined his union's letter-writing campaign to President Obama, to raise the minimum wage for workers like himself, working in federal buildings.
Mitchell's Story
A deaf homeless man in DC tells us how he survives. (Video)
Row the Anacostia
A story by Bob "Coach" Day, a lifetime rower, his love for the Anacostia and his after school rowing program. In collaboration with River Finlay. (Video)
Sharifa
A story by Kalin William, her journey from a childhood in Senegal to a young adult in Anacostia, her rediscovery of nature and her life as a conservationist. In collaboration with Laura Franco Velasco. (Video)
Small Moments
A story about Vaughn Perry and his path to becoming an environmentalist, his desire to share the environment with all people, and his quest to build bridges between different social groups. In collaboration with Robin Brown. (Video)
United Planning Organization: Voices of Opportunity
By Rob Peavey, Kelly Mertens, Rebekah Moore and William Theaker (Video)
Digital Storytelling

Film and anthropology students from American University's School of Communication and College of Arts and Sciences, working with the Smithsonian Anacostia Community Museum, assisted community artists, residents along the Anacostia River, in Southeast Washington to create their own original digital stories. In this class, COMMUNITY DOCUMENTARY: Stories of Transformation, storytellers use photographs, family documents, community archives, and their own voice to create first-person narratives.
Community Artists
Stories of Overcoming: M.O.M.I.E'S TLC 
Stories of Overcoming: Smith Center for Healing and the Arts