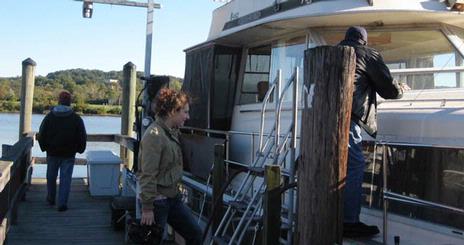 Student filmmaker Amy Falkow boards boat at
Seafarers Yacht Club on M Street.


The Community Voice Project of the American University School of Communication collaborates with the College of Arts and Sciences' Department of Anthropology to document the voices and empower the people and communities of Greater Washington. In one semester, students in Unseen and Unheard: Documentary Storytelling in the Other Washington worked with an anti-hate group in Manassas, Virginia and produced a film on a community activist dedicated to ending racially motivated violence, while other students profiled a young cellist from the D.C. Youth Orchestra revealing his passion for music and the discipline it takes to perform. In the course Race, Ethnic and Community Reporting , students have created multimedia stories about diverse enclaves within the sprawling D.C. area that are rarely covered — a Muslim community center and school in College Park, MD., contrasts in D.C.'s gentrifying Capitol Hill neighborhood, a community of Russian immigrants in Alexandria, VA, and an English class for adults in Wheaton, MD, where leaving home and family in another part of the world is the common bond.