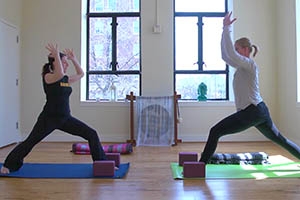 One of the 500,00 American veterans suffering from PTSD after serving several tours in Iraq and Afghanistan, Laura Pratt tells her story of slow but promising recovery through the practice of yoga and meditation.
Oppressive working conditions and the weight of poverty faced by fast food workers is invisible to many of us.
So too is war, and the trauma many veterans of Iraq and Afghanistan struggle with day to day, in obscurity.
But seeing and hearing their stories helps make their experience significant.
In five new documentary film portraits, these stories come to life.
As part of the Community Voice Project, (CVP) now in its sixth year, student filmmakers document the lives of two veterans of Afghanistan and Iraq, bravely finding their way out of Post-Traumatic Stress Disorder (PTSD) through the practices of yoga and meditation. And, student filmmakers tell the stories of fast food workers, working for food chains inside the Pentagon, the Air and Space Museum and the Ronald Reagan Building—who join together to raise wages, benefits and for a voice on the job.