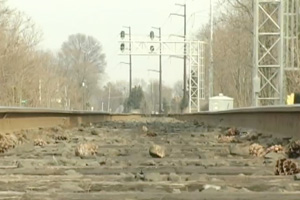 Georgetown South: Community at the Crossroads

Story of a DC neighborhood that has seen both good times and bad. Produced by Kayt Jonsson, and Casey Nitsch in conjunction with Unity in the Community. Watch video

More stories on community building

A demographic shift in Prince George's County
Residents continue to seek a balance between commuter population and those who find everything they need within the borders of a rapidly diversifying community. (Article)
A Digital Story by Jay "Jahlion" Coleman
Surrounded by art his entire life and now a musician, writer, actor, and painter, Jay is dedicated to teaching arts to children with autism and other special conditions. In collaboration with Anedra Edwards
A Digital Story by Jennifer Gray
Questioning everything since she was a child, Jennifer uses photography to shake and wake people to think for themselves. In collaboration with Sara Gama
A Digital Story by John Pearson III
Growing up listening to Go Go music, John teaches and practices his own "Beat Your Feet" dance moves to young people -- fusing dance with other types of knowledge to teach life skills – like geometry! In collaboration with Nicole Wisler
A Digital Story by Kim Johnson
Finding music and dance to be a joyful release -- Kim takes her moves to the kitchen, the park and the laudromat! In collaboration with Leah Jones.
A Digital Story by Kristen Hayes
Kristen turned from her work as a successful book designer, to create a color transformation project, using art to heal anyone in need of help – from young children to community elders.
A Digital Story by Luis Peralta
Moving from one war zone (Nicaragua) to another (14th and Park Road in the 1980's,) Luis first used his talent as a street artist to reflect the battles for turf around him. Now, he creates messages of love and beauty so that young people are not overwhelmed by their still-harsh surroundings. In collaboration with Efrain Ramirez
A Digital Story by Marialuz Johnson
As her father's strength and memory wanes in his final years, Marialuz recalls her father's dream for his daughter and how she weaves his wishes with her own personal and professional calling to become a doula. In collaboration with Kathleen McLaughlin and Evan Mileusnic.
A Digital Story by Pastor Lois Void
A choreographer and minister, Pastor Void uses music and dance to spread the gospel and help people express themselves, teaching people -- especially women -- life skills, and confidence. In collaboration with Alisa Morse & Jenny Harper
A Digital Story by Shatoya Brown
A twenty-five year old woman recounts her ongoing journey to become her 'best self' and the strong and loving mother she knows she can be. In collaboration with Lauren Kendrick
A Digital Story by Tendani Mpulubusi
Throughout public school, Tendani escaped the world of guns, drugs and girls by absorbing himself in building things. Today as a multi-media artist, musician and teacher, he uses all that he has to build his community. In collaboration with Jacqui Langer and Matt Sutton
A Place on the River
Historical piece on the east coast's oldest African American boating club: the Seafarers' Yacht Club. (Video)
A Wider Circle
A Wider Circle tells the story of this organization whose mission is simple: to help children and adults lift themselves out of poverty. It focuses on the volunteers of all ages that make this organization tick providing furniture, bedding, linen, non-perishable foods and personal items to needy families free of charge, in an atmosphere of dignity and respect. (Video)
Anacostia Rollers
The Anacostia Rollers & Friends is a roller skating group made up of seniors who have been performing for the Anacostia community and beyond for over twenty years- performing to improve community relations while showing their stuff. They are featured as part of a collaborative effort between the Anacostia Community Museum and AU's Community Voice Project to document public artists in the Anacostia community. (Video)
A Digital Story by Ayize Sabater
It was at Morehouse College where Ayize had a watershed moment: He realized he had come from a long line of black folk involved in the struggle for justice. They "poured into his cup" a life long commitment to give back to the community. So began his work to build schools like M.O.M.I.E.S. TLC which has reached 10,000 kids over ten years. In collaboration with Mandy Cooper
A Digital Story by Eugene Yarbrough
Brought up by strong women yet living in a patriarchal culture, Gene rediscovers for himself the lineage of women that shaped his life. In collaboration with Robin Svendsen.
A Digital Story by Tonya Allen
A single mother raised in the South reflects upon some of her life's many lessons. Discovering the secret to life, she turns inward, healing herself through exercise, nutrition, and spiritual practice. In collaboration with Delana Listman.
Brainfood. Eat. Learn. Cook.
"[The film] tells the story about our organization that we can share with future students, potential volunteers, funders and board members." (Video)
Carecen
This short film highlights the work of Carecen (the Central American Resource Center) in the face of the housing crisis. It focuses on Carecen's work to empower Latino families through tenant organizing, education and advocacy, and access to affordable housing and home ownership. (Video)
Doing Big Things with Small Boats
The Alexandria Seaport Foundation offers paid work-based apprentice programs in boatbuilding to help disadvantaged youths develop the discipline, self confidence, workshop and social skills necessary to compete their GED and find a job. (Video)
Georgetown South: Community at the Crossroads
Story of a DC neighborhood that has seen both good times and bad. (Video)
Giving Them Strength
Martha's Table, a DC community center that runs youth and food programs, explores new ways to help the needy. "[Student filmmakers] caught the spirit of much of what we do here and we will be able to use their work to help orient new volunteers, to share with donors…to help with fundraising and tell the community who we are and what we do." (Video)
Good Jobs Nation: Alexis Vasquez
A high school student with stellar grades, Alexis gives up his dreams of becoming an architect to help support his family by taking on two fast-food jobs. Faced with low pay and no benefits, he joins his coworkers in the fight for a livable wage, and finds his voice in the process.
Good Jobs Nation: Jerome Hardy
Working for years as a short-order cook at a Pentagon fast food outlet, and barely getting a raise, Jerome Hardy joined his union's letter-writing campaign to President Obama, to raise the minimum wage for workers like himself, working in federal buildings.
Good Jobs Nation: Wilfredo Reyes
Arriving from Guatemala with the dream of bringing his wife and children to the United States, Wilfredo tells his story of loss, struggle, sacrifice …. and stubborn hope, as he joins his fellow workers to raise their meager earnings to livable wages.
Inspiring Voices
A local non-profit, Community Bridges, runs programs that aim to empower young girls in the area. (Video)
Looking Both Ways: H.I.P.S.
A profile piece on one DC non-profit that is fighting the AIDS epidemic among transgender citizens. (Video)
Montgomery Coalition for Adult English Literacy
This video was created by students as part of the course UNSEEN AND UNHEARD: Documentary Storytelling in the Other Washington. (Video)
St. Elizabeths Hospital
Students in the Unseen Unheard course produced a documentary on the historic hospital. (Video)
There and Back Again
As one of the 500,00 American veterans suffering from post-traumatic stress disorder after serving several tours in Iraq and Afghanistan, Laura Pratt tells her story of slow but promising recovery through the practice of yoga and meditation.
United Planning Organization: Voices of Opportunity
By Rob Peavey, Kelly Mertens, Rebekah Moore and William Theaker (Video)
Warriors at Ease
"Every war has its after-war" writes Pulitzer Prize-winner David Finkel in Thank You For Your Service. And so it is with war medic, Chris Giddinge, who movingly tells of his journey to heal himself and other service members through the practice of yoga nidra.