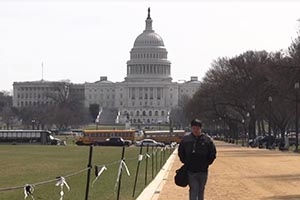 Stellar student Alexis Vasquez left his education behind to work to support his family. Faced with low pay and no benefits, he joins his coworkers in the fight for a livable wage, and finds his voice in the process.
Seeking untold stories....Discovering the remarkable. For the past six years, film and anthropology students, working in small teams have made films that help illuminate the lives of the other Washington. Some are immigrants trying to hold onto their dreams in the face of loss and sacrifice. Some are veterans of tours of duty in Iraq and Afghanistan trying to heal themselves in the after-war, through the practice of yoga and meditation. Some are children, like a 12-year-old middle schooler who found a safe place to talk about "the drama" in school that that was causing her schoolwork to suffer. Another is a 70-year-old roller skater who performs for children - extending a hand to those seeking love and connection. Amidst lives of hardship, private torment, discrimination and struggle -- generosity, resilience and beauty abounds.
These films tell stories of individuals … and of organizations in Greater Washington that work for social change. By telling the organization's story through the voices of the people it serves — the films provide non-profits with valuable communication tools they might otherwise not afford. And they introduce viewers to people and places all-too-often unseen and unheard. 
Most importantly, they connect us to each other.