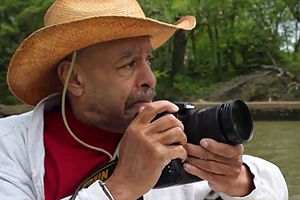 Still from the film "ReStorying the Anacostia" created by students in Nina Shapiro-Perl's course "Unseen Unheard: Documentary Storytelling for Social Change"
For the past four years teams of Film and Anthropology students spread out across Washington seeking untold stories... and discovering the remarkable. Their films tell stories of people struggling to cope in the ruins of a historic recession: some are immigrants trying to hold onto their dreams. Others are parents in search of safe and affordable housing. Those lucky enough to have housing, struggle to find furniture - as basic as beds, mattresses and linens. Some are children, like a 12 year old middle school girl who found a safe place to talk about "the drama in school that that was causing her schoolwork to suffer. Or the 13 year old Guatemalan boy who chokes up with pride at being Latino. Others are a group of seniors who grew up together in public housing in Southeast Washington where close family ties, fostered, in the words of one elder, "that wonderful self-esteem." Still another is a 70 year old roller skater who performs for the children - extending a hand to those seeking love and connection. Amidst the lives of hardship, discrimination and struggle, generosity resiliance and beauty abounds.
These films tell stories of individuals … and of organizations in the DC area that work for social change. By telling the organization's story through the voices of the people it serves — the films provide non-profits with valuable communication tools they might otherwise not afford. And they introduce viewers to people and places all-too-often unseen and unheard.
Most importantly, they connect us to each other.