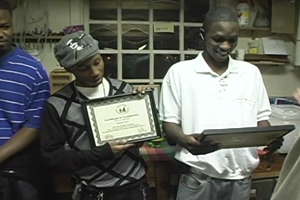 Doing Big Things with Small Boats

The Alexandria Seaport Foundation offers paid work-based apprentice programs in boatbuilding to help disadvantaged youths develop the discipline, self confidence, workshop and social skills necessary to compete their GED and find a job. Watch video

More stories on education 

A Digital Story by Jay "Jahlion" Coleman
Surrounded by art his entire life and now a musician, writer, actor, and painter, Jay is dedicated to teaching arts to children with autism and other special conditions. In collaboration with Anedra Edwards
A Digital Story by Jennifer Gray
Questioning everything since she was a child, Jennifer uses photography to shake and wake people to think for themselves. In collaboration with Sara Gama
A Digital Story by John Pearson III
Growing up listening to Go Go music, John teaches and practices his own "Beat Your Feet" dance moves to young people -- fusing dance with other types of knowledge to teach life skills – like geometry! In collaboration with Nicole Wisler
A Digital Story by Kim Johnson
Finding music and dance to be a joyful release -- Kim takes her moves to the kitchen, the park and the laudromat! In collaboration with Leah Jones.
A Digital Story by Luis Peralta
Moving from one war zone (Nicaragua) to another (14th and Park Road in the 1980's,) Luis first used his talent as a street artist to reflect the battles for turf around him. Now, he creates messages of love and beauty so that young people are not overwhelmed by their still-harsh surroundings. In collaboration with Efrain Ramirez
A Digital Story by Marialuz Johnson
As her father's strength and memory wanes in his final years, Marialuz recalls her father's dream for his daughter and how she weaves his wishes with her own personal and professional calling to become a doula. In collaboration with Kathleen McLaughlin and Evan Mileusnic.
A Digital Story by Shatoya Brown
A twenty-five year old woman recounts her ongoing journey to become her 'best self' and the strong and loving mother she knows she can be. In collaboration with Lauren Kendrick
Beyond the Headlines and the Numbers: Voices from Anacostia High School
Students from Anacostia High School in Washington, D.C., challenge the stereotypes of their institution. (Video, article)
Doing Big Things with Small Boats
The Alexandria Seaport Foundation offers paid work-based apprentice programs in boatbuilding to help disadvantaged youths develop the discipline, self confidence, workshop and social skills necessary to compete their GED and find a job. (Video)
Inspiring Voices
A local non-profit, Community Bridges, runs programs that aim to empower young girls in the area. (Video)
A Digital Story by Ayize Sabater
It was at Morehouse College where Ayize had a watershed moment: He realized he had come from a long line of black folk involved in the struggle for justice. They "poured into his cup" a life long commitment to give back to the community. So began his work to build schools like M.O.M.I.E.S. TLC which has reached 10,000 kids over ten years. In collaboration with Mandy Cooper
A Digital Story by Eugene Yarbrough
Brought up by strong women yet living in a patriarchal culture, Gene rediscovers for himself the lineage of women that shaped his life. In collaboration with Robin Svendsen.
A Digital Story by Kristen Hayes
Kristen turned from her work as a successful book designer, to create a color transformation project, using art to heal anyone in need of help – from young children to community elders.
A Digital Story by Pastor Lois Void
A choreographer and minister, Pastor Void uses music and dance to spread the gospel and help people express themselves, teaching people -- especially women -- life skills, and confidence. In collaboration with Alisa Morse & Jenny Harper
A Digital Story by Tendani Mpulubusi
Throughout public school, Tendani escaped the world of guns, drugs and girls by absorbing himself in building things. Today as a multi-media artist, musician and teacher, he uses all that he has to build his community. In collaboration with Jacqui Langer and Matt Sutton
A Digital Story by Tonya Allen
A single mother raised in the South reflects upon some of her life's many lessons. Discovering the secret to life, she turns inward, healing herself through exercise, nutrition, and spiritual practice. In collaboration with Delana Listman.
Brainfood. Eat. Learn. Cook.
"[The film] tells the story about our organization that we can share with future students, potential volunteers, funders and board members." (Video)
DC Youth Orchestra Program
"The DC Youth Orchestra Program accepts all students and provides them with music classes and ensemble training for those who wish to participate." (Video)
In English Class, Stories of Dreams Lost and Found
Every Tuesday morning, in a small, nondescript room in a back corner of the Wheaton Public Library, men and women gather for a conversation class. (Article)
Montgomery Coalition for Adult English Literacy
This video was created by students as part of the course UNSEEN AND UNHEARD: Documentary Storytelling in the Other Washington. (Video)