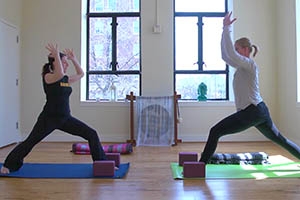 There and Back Again

As one of the 500,00 American veterans suffering from post-traumatic stress disorder after serving several tours in Iraq and Afghanistan, Laura Pratt tells her story of slow but promising recovery through the practice of yoga and meditation. Laura Pratt: "Navigating Life After War" Filmmakers: Jazmin Garcia, Victoria Ivanova, Andrew Watman, Amanda Zimmerman (Video)
A Digital Story by Ben Hartman
"How much suffering is enough?" asks Ben Hartman, a 33-year-old doctor who contracted cancer at the age of 28. The question runs deep for Ben who grew up in a family where members had perished in the Holocaust. In collaboration with Lizzy Lees.
A Digital Story by Erin Price Schabert
Diagnosed with breast cancer at 27, Erin determined not to let cancer take anything from her and to use the experience when she was done. Devoting herself to working with others with cancer, her life took an unexpected turn, when her father was In collaboration with with Elaina Kimes.
A Digital Story by Jacque Buschmann
"I don't hate cancer… even if it blew up the life I knew," says Jacque. "…Because under all of the rubble of vulnerability, pain, loss, and uncertainty, I found the most beautiful little gems." Faced with one medical crisis and then another, this remarkable young woman tells her story of continuing transformation. In collaboration with Samantha Adamson.
A Digital Story by Rodney Stotts
A story by Rodney Stotts, an ex-drug dealer, falconer and environmentalist, about the trials and tribulations involved in cleaning the dirtiest places. In collaboration with Kady Buchanan. (Video)
A Digital Story by Sam and Susan Simon
When his wife of fifty years was diagnosed with cancer, Sam "knew how it was going to end." He threw himself into writing a play about this "dance" with his wife. For the first time in this digital story, Susan talks about Sam and their cancer journey together, calling it "our" story. More than a story about cancer, it is a love story told by two people who know each other deeply. In collaboration with Allie Gardner, Geet Jeswani and Chantel Romero Hernandez.
A Place on the River
Historical piece on the east coast's oldest African American boating club: the Seafarers' Yacht Club. (Video)
Brainfood. Eat. Learn. Cook.
"[The film] tells the story about our organization that we can share with future students, potential volunteers, funders and board members." (Video)
Connected by Design
A story by Brenda Richardson, her life as an eco-feminist, and her link to the Anacostia. In collaboration with Erika Baumann and Allison Arlotta. (Video)
Making Do With What You Have
A story by Francis Wheeler focusing on growing up in south-eastern Washington DC near the Anacostia River in collaboration with Ted Samuel. (Video)
Restorying the Anacostia
By Emma Boorboor, Danny Peters, Rasheda Kahn (Video)
St. Elizabeths Hospital
Students in the Unseen Unheard course produced a documentary on the historic hospital. (Video)
Looking Both Ways: H.I.P.S.
A profile piece on one DC non-profit that is fighting the AIDS epidemic among transgender citizens. (Video)
Row the Anacostia
A story by Bob "Coach" Day, a lifetime rower, his love for the Anacostia and his after school rowing program. In collaboration with River Finlay. (Video)
Sharifa
A story by Kalin William, her journey from a childhood in Senegal to a young adult in Anacostia, her rediscovery of nature and her life as a conservationist. In collaboration with Laura Franco Velasco. (Video)
Small Moments
A story about Vaughn Perry and his path to becoming an environmentalist, his desire to share the environment with all people, and his quest to build bridges between different social groups. In collaboration with Robin Brown. (Video)
The Digital Story of Gabe Horchler
A story by Gabe Horchler, commuting to work by boat, his love for the Anacostia River, and the pollution of the river. In collaboration with John Napolitano. (Video)
There and Back Again
As one of the 500,00 American veterans suffering from post-traumatic stress disorder after serving several tours in Iraq and Afghanistan, Laura Pratt tells her story of slow but promising recovery through the practice of yoga and meditation.
Warriors at Ease
"Every war has its after-war" writes Pulitzer Prize-winner David Finkel in Thank You For Your Service. And so it is with war medic, Chris Giddinge, who movingly tells of his journey to heal himself and other service members through the practice of yoga nidra.