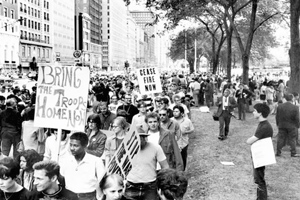 Against the Grain

Produced by Charlene Shovic and Jenny Grubbs.
A story of a community activist that faces social alienation as he speaks out against racism and other civil ills. Watch video

More stories on race and ethnicity 

A Digital Story by Kim Johnson
Finding music and dance to be a joyful release -- Kim takes her moves to the kitchen, the park and the laudromat! In collaboration with Leah Jones.
A Digital Story by Marialuz Johnson
As her father's strength and memory wanes in his final years, Marialuz recalls her father's dream for his daughter and how she weaves his wishes with her own personal and professional calling to become a doula. In collaboration with Kathleen McLaughlin and Evan Mileusnic.
A Digital Story by Shatoya Brown
A twenty-five year old woman recounts her ongoing journey to become her 'best self' and the strong and loving mother she knows she can be. In collaboration with Lauren Kendrick
Against the Grain
A story of a community activist that faces social alienation as he speaks out against racism and other civil ills. (Video)
Hair Braiding in the Columbia Heights Community
Nubian Twists, Kinky Twists, Cornrow, Senegalese Twists, Banku Knots and the Nubian Corkscrew represent just a few of the African braid styles worn by many African American women living in Columbia Heights, Washington, D.C. (Article and Video)
Memorizing the Quran Teaches Young Muslims About More Than Words
In the Hifzh school, students of all different ages, use daily recitation to memorize the Qur'an, the holy book of Islam, from cover to cover. (Article)
Montgomery Coalition for Adult English Literacy
This video was created by students as part of the course UNSEEN AND UNHEARD: Documentary Storytelling in the Other Washington. (Video)
A demographic shift in Prince George's County
Residents continue to seek a balance between commuter population and those who find everything they need within the borders of a rapidly diversifying community. (Article)
A Digital Story by Ayize Sabater
It was at Morehouse College where Ayize had a watershed moment: He realized he had come from a long line of black folk involved in the struggle for justice. They "poured into his cup" a life long commitment to give back to the community. So began his work to build schools like M.O.M.I.E.S. TLC which has reached 10,000 kids over ten years. In collaboration with Mandy Cooper
A Digital Story by Eugene Yarbrough
Brought up by strong women yet living in a patriarchal culture, Gene rediscovers for himself the lineage of women that shaped his life. In collaboration with Robin Svendsen.
A Digital Story by Tonya Allen
A single mother raised in the South reflects upon some of her life's many lessons. Discovering the secret to life, she turns inward, healing herself through exercise, nutrition, and spiritual practice. In collaboration with Delana Listman.
Good Jobs Nation: Alexis Vasquez
A high school student with stellar grades, Alexis gives up his dreams of becoming an architect to help support his family by taking on two fast-food jobs. Faced with low pay and no benefits, he joins his coworkers in the fight for a livable wage, and finds his voice in the process.
Good Jobs Nation: Jerome Hardy
Working for years as a short-order cook at a Pentagon fast food outlet, and barely getting a raise, Jerome Hardy joined his union's letter-writing campaign to President Obama, to raise the minimum wage for workers like himself, working in federal buildings.
Good Jobs Nation: Wilfredo Reyes
Arriving from Guatemala with the dream of bringing his wife and children to the United States, Wilfredo tells his story of loss, struggle, sacrifice …. and stubborn hope, as he joins his fellow workers to raise their meager earnings to livable wages.
The Only People in Town
[T]he film exists as a testament to the exemplary quality of the instruction, scholarship, and commitment to critical social issues present at American University. The film validates the significant educational work completed in and out of the classroom by the students and instructor. We look forward to the opportunity to collaborate with the University again. (Video)