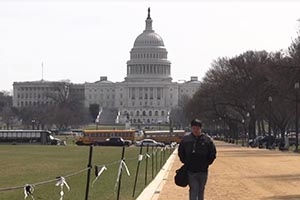 Good Jobs Nation: Alexis Vasquez

Filmmakers: Curt Devine,Edeny Tran, Tori Vogel
A high school student with stellar grades, Alexis gives up his dreams of becoming an architect to help support his family by taking on two fast-food jobs. Faced with low pay and no benefits, he joins his coworkers in the fight for a livable wage, and finds his voice in the process. Watch video

More stories on poverty and homelessness

A Wider Circle
A Wider Circle tells the story of this organization whose mission is simple: to help children and adults lift themselves out of poverty. It focuses on the volunteers of all ages that make this organization tick providing furniture, bedding, linen, non-perishable foods and personal items to needy families free of charge, in an atmosphere of dignity and respect. (Video)
Carolyn Darley
In this short profile, Carloyn Darley tells the story of her journey from a home and family, to homelessness, and then to a home of her own, through her own perseverance and the help of a very special organization-- the Community Council for the Homeless at Friendship Place. (Video)
Friendship Place: Phillip Black
Phillip Black found himself homeless when he was down on his luck. After falling into depression trying to cope with this realization, he eventually found Friendship Place. (Video)
Giving Them Strength
Martha's Table, a DC community center that runs youth and food programs, explores new ways to help the needy. "[Student filmmakers] caught the spirit of much of what we do here and we will be able to use their work to help orient new volunteers, to share with donors…to help with fundraising and tell the community who we are and what we do." (Video)
Good Jobs Nation: Alexis Vasquez
A high school student with stellar grades, Alexis gives up his dreams of becoming an architect to help support his family by taking on two fast-food jobs. Faced with low pay and no benefits, he joins his coworkers in the fight for a livable wage, and finds his voice in the process.
Good Jobs Nation: Jerome Hardy
Working for years as a short-order cook at a Pentagon fast food outlet, and barely getting a raise, Jerome Hardy joined his union's letter-writing campaign to President Obama, to raise the minimum wage for workers like himself, working in federal buildings.
Good Jobs Nation: Wilfredo Reyes
Arriving from Guatemala with the dream of bringing his wife and children to the United States, Wilfredo tells his story of loss, struggle, sacrifice …. and stubborn hope, as he joins his fellow workers to raise their meager earnings to livable wages.
Mitchell's Story
A deaf homeless man in DC tells us how he survives. (Video)
United Planning Organization: Voices of Opportunity
By Rob Peavey, Kelly Mertens, Rebekah Moore and William Theaker (Video)