Students will learn all about photography and filmmaking in the wild during this 11-day on-location production experience. From preparing and organizing a shoot to using HD camera equipment and editing a polished project, students will experience every stage of the filmmaking process. What better way location to learn this than Yellowstone and Grand Teton National Parks.
American University Professor Larry Engel, with more than 30 years of teaching and filmmaking experience, will lead the workshop with the assistance of Angela Pinaglia. Professor Engel's documentaries have aired on PBS, the Discovery Channel and National Geographic, among other outlets. His awards include a Daytime Emmy for Best Cinematography and the Mountain Spirit award from Mountainfilm in Telluride. Angela is an AU graduate student with previous teaching experience, including leading a group of undergraduate students to Nicaragua.
Dates: June 10th – June 20th, 2013
Itinerary
Monday, June 10th

Welcome to DWC in the Wild. Students arrive in Salt Lake City, Utah.
Transportation by van from the airport to our hotel.
Dinner, welcome and meet and greet with the other students and receive your first hands-on workshop with the camera equipment.
Tuesday, June 11th
Explore the Tetons with a wildlife biologist and local botanist to discover the unique ecosystems of the northern Rockies. Scientists will discuss flora and fauna found in alpine, subalpine and boreal forests.
Shoot B roll and interview local scientists.
Wednesday, June 12th
Explore the Grand Tetons on the Big Red Aerial Tram.
Learn about continental uplift, marine fossils and the geology of the Rocky Mountains with our lead naturalist.
See the world from the top down: at the Tram summit, be amazed by unrivaled 360-degree views of Jackson Hole and the Snake River Valley.
Film throughout the day.
Thursday, June 13th
Explore/shoot Norris Basin.
Here you will see thermal features including geysers, steam vents, mud pots, and mineral pools.
Friday, June 14th
Visit Yellowstone Canyon
Our group is treated to breathtaking views of the Upper and Lower Falls.
Interview a local scientist and shoot b-roll.
Saturday, June 15th
Traverse Hayden Valley with an excellent chance to spot Yellowstone's bison herd.
Our local scientist will discuss endemic species of plants and animals and their interaction within this ecosystem.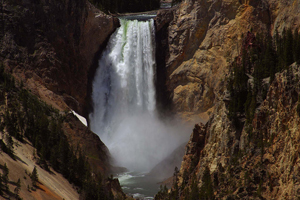 Sunday, June 16th
Volunteer with Wolfwatcher.
Film some of the volunteer activities.
Wolfwatcher is dedicated to preserving the wolf and its historic range as part of our national heritage. This grassroots effort is supported by ordinary citizens who seek to promote positive attitudes about wolvers and to support wolf recovery in all areas of its historic range. Along with biologists, students will actively get involved in projects that help support conservation efforts to bring back this endemic species.
Monday, June 17th
Learn all about tapeless workflows and basic editing techniques in Final Cut Pro X.
Import footage and label clips.
Tuesday, June 18th
Post-production work on films continues including writing, logging and editing.
Evening movie entertainment
Wednesday, June 19th
Last day of post-production.
Export films and practice presentations.
Film premiere at the hotel
Thursday, June 20th
Depart for home from Salt Lake City airport in the afternoon.
Cost
Total Cost made payable to American University $4,100.00
Travel and Experience includes:
Roundtrip airfare *from major city to Salt Lake City
Ground transportation
Entrance fees to all tourist places organized for this tour
Guided tours
Hotel accommodations (no camping)
Includes all meals
Workshop, teacher and equipment fees
Registration and deposit must be received by March 24, 2013. Full payment is due on April 24th, 2013.
Please send forms and checks to:
Discover the World of Communication
School of Communication
American University
4400 Massachusetts Ave, NW
Washington, DC 20008
Questions? Call Sarah Menke-Fish, Assistant Professor and Director, Discover the World of Communication 202-885-2098