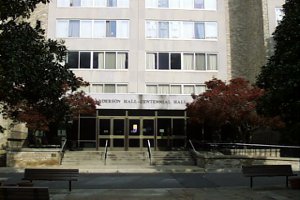 When you choose to stay on campus, you receive access to free wireless high speed internet, a state-of-the-art health center, several computing complexes, several food options and other great facilities.
Each person living on campus for the Discover the World of Communication Program will be placed in a two-person room in Anderson Hall, which contains storage units, vanities, closets, beds and desks. Along with the standard furnishings, linens are provided. You may wish to bring an additional towel because the one provided is small. A Discover the World of Communication Resident Assistant will live on the same floor.

Things to Bring:
Must-haves:
Bathroom Amenities (toothbrush,
toothpaste, shampoo, etc.)
Casual Attire
Warm Weather Attire
Two business casual outfits

Walking Shoes
Shower Shoes
Alarm Clock
Umbrella/Rain Gear
Towel
Sunglasses/Sunscreen
Swimsuit/Workout attire
Notebook and pen

$150 spending money

Optional:
Hat
Tennis Racquet
Laptop/Computer
iPod
DVDs
Musical instrument
(guitar/ukulele)

NOTE: Students staying on campus must take both a morning and afternoon class. 2016 fees for housing, dining and after hours and weekend activities for students staying on campus are $1,700 (two weeks) and $3,400 (four weeks).