Registration Open for Summer 2013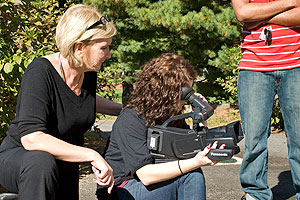 Discover the World of Communication director Sarah Menke-Fish assists a student with camera technique.
High School Summer Program Lets Students
Discover communication in the nation's capital
Welcome to Discover the World of Communication where you will learn to build a digital portfolio, script, shoot and edit a film, write a news story like a pro, speak with confidence, persuade, inform, educate and entertain. Our professional, hands-on workshops- open to students entering grades 9 through 12- are taught by American University School of Communication faculty and communication professionals.
During class and after hours explore the city from a variety of angles. View live television and radio broadcasts at local studios such as NBC 4, WTTG Fox 5, NPR and ESPN Radio, cover a Nationals baseball game or WNBA game from a press seat, and tour local attractions including the National Zoo, Newseum, National Cathedral, Georgetown and the Smithsonian museums. Upcoming sessions are June 17-28 and July 1-12, 2013.
I look forward to seeing you here at American University in 2013. If you have questions, call me at 202-885-2098.
Sarah Menke-Fish, Asst. Professor
Director, University College and Learning Communities
Director, Discover the World of Communication audiscover.org
American University, 4400 Massachusetts Ave., NW
Washington, D.C. 20016 office) 202-885-2098
>>> Find us on Facebook