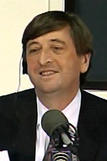 Mark mcdonald
Broadcast Journalist in Residence
Program Director, WAMU
Mark McDonald is a multi-media broadcast journalist, content strategist and coach. He is the Broadcast Journalist in Residence, teaching multi-media skills and media management strategies to undergraduate and graduate students, and coordinating internships, work-study assignments and co-production projects between the school and the content provider. He is also the Program Director at WAMU in Washington DC where, under his seven-year tenure, the station has become the third most listened-to public radio content provider in the United States, in the 9th largest market, with an increase in its cume audience of 55%. WAMU 88.5 on FM is now the third most listened to radio station in the Washington market.

McDonald has stewarded the production of the station's audio content into a multi-media distribution network, developing three live Internet streams, podcasting, and a interactive website. WAMU has also recently launched two additional HD radio channels specializing in international news and traditional American music, respectively. McDonald is currently helping staff and students at the station learn multi-skilled video journalism further to position WAMU for the digital future.

This follows a career in news and current events at BBC network TV and radio, and commercial and public radio in the U.S. and in more than twenty countries across the globe as a producer, reporter and host.

As Managing Editor for WNYC Radio in New York City, McDonald's team won an Edward R. Murrow Award for Investigative Journalism, and a DuPont Columbia Award for a separate investigative project.

As an independent media strategist and consultant, McDonald has helped clients frame and articulate their strategic messages across all media platforms, and helps to conceive and support new multi-media content proposals with strategies for editorial innovation, multi-purposed carriage and financial sustainability.