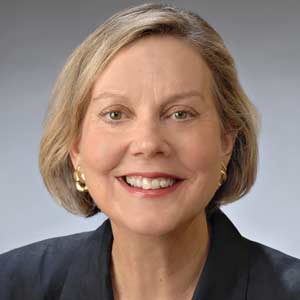 Jane Hall
Associate Professor
School of Communication
Jane Hall is a full-time professor of Journalism. She specializes in media and politics, particularly in issues of special interest to young people. A former weekly commentator on Fox News Watch, she also moderates SOC's American Forum series on NPR station WAMU. Hall is a frequent contributor to Columbia Journalism Review, the Harvard International Journal of Press and Politics and other publications. She teaches reporting and media studies. In 2007-2008, she developed a year-long collaboration between her students and washingtonpost.com about the presidential election. Working out of New York, Hall covered the media for nine years for the Los Angeles Times. She was a finalist for the Pulitzer Prize and winner of the Los Angeles Times Editor's Awards and the Los Angeles Press Club Award.



Degrees

BA English (minor in Journalism), University of Texas at Austin; MS Journalism, Columbia University Graduate School of Journalism
Loading ...

OFFICE

SOC - School of Communication
McCabe - 222
FOR THE MEDIA

To request an interview for a
news story, call AU Communications
at 202-885-5950 or submit a request.
Teaching
Fall 2013

COMM-425 Advanced Reporting

COMM-509 Politics and the Media
Spring 2014

COMM-100 Understanding Media

COMM-425 Advanced Reporting
Scholarly, Creative & Professional Activities
Research Interests
   
Politics and the Media;  Media Ethics;  Young People and Politics/Young People and Media.
   
Projects:  "College Vote '08," washingtonpost.com. A year-long collaboration about election with students and washingtonpost.com. November '07  and March '08  
Honors, Awards, and Fellowships
   
Pulitzer Prize finalist, LA Times
   
LA Times Editor's Award
   
Los Angeles Press Club Award
   
Phi Beta Kappa
Professional Presentations
Regular speaker on media and politics, including in 2008:
   
Association of Americans for Civic Responsibility at Syracuse University
   
James Madison Fellows lecture, Georgetown University
   
PBS program at Quinnipiac College
Grants and Sponsored Research
   
Curriculum Development Award, American University, 2008-2009
   
Convener and moderator, conference on the future of news, Center for Social Media, American University, 2006
   
Research Award, American University, 2006-2008
   
Co-author, grant on diversity in journalism education, Knight Foundation and Assoc. of Schools of Mass Communication
AU Expert
Area of Expertise: Politics and the media, war media coverage, media ethics and criticism, television news, depiction of women in the media, young people and the media, young people and politics, young people and media/popular culture

Additional Information: Jane Hall specializes in media and politics, media ethics and young people, and media and popular culture. She is an expert on young people and the news, young people and politics, and the depiction of women in the media. Hall is the moderator and executive producer of the long-running American Forum series on young people and politics, and the media at American University. She is a regular commentator on media and politics on cable TV and in print. She was a weekly commentator on the media for many years for Fox News Channel and now regularly appears on other media programs, including CNN's Reliable Sources. Hall is interviewed regularly on media and politics by many national publications and outlets, including Politico, U.S. News & World Report, and the New York Times, Washington Post, Associated Press, and other publications. She has been interviewed as an expert on the media on NPR, PBS's NewsHour and Charlie Rose, the BBC, and other broadcast and cable programs.

During the 2008 presidential campaign, Hall developed a year-long collaboration with American University students and WashingtonPost.com that led to a published series of surveys and articles focusing on issues of special interest to young people in the 2008 campaign. She recently contributed a chapter on the status of women in TV news and newspapers for a two-volume encyclopedia on women's leadership and gender studies and moderated a panel on media coverage of First Ladies for a conference at the School of Public Affairs at American University. She also has moderated two annual symposia with fellows studying the presidency and Congress and other events with young people in Washington, D.C., and New York. Before joining American University in 1998, Hall was a long-time journalist writing about the news media for publications in New York, including nine years as the media reporter for the Los Angeles Times in New York. She was a finalist for the Pulitzer Prize and winner of the Los Angeles Times Editors' Award and the Los Angeles Press Club awards for her media coverage.

Hall also has contributed numerous articles on media and politics to the Harvard International Journal of Press and Politics and Columbia Journalism Review. She has been the moderator and executive producer of the American Forum series since 2001, broadcast on WAMU, the NPR station in Washington, D.C., from 2001 to 2010 and live-streamed on WashingtonPost.com in 2010. In 2005, Hall coauthored a study of issues of censorship and self-censorship among 200 journalists in Iraq that was praised as an "important new study" by the Columbia Journalism Review.

Media Relations
To request an interview please call AU Media Relations at 202-885-5950 or submit an interview request form.