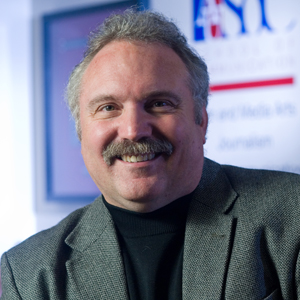 Rick Rockwell
Associate Professor
School of Communication
Rick Rockwell is the interim Director of Journalism Programs and the School of Communication's Director of the International Media Program. Also, he is a professor of journalism. He teaches broadcast journalism, communication and multimedia courses. He is the co-author of the book Media Power in Central America, which won an American Library Association Choice magazine award in 2004, as one of the best academic books of the year. Rockwell's expertise in Latin America stems from his journalistic work in Central America and Mexico. In addition to his book, he has authored or co-authored 21 book chapters, government reports and peer-reviewed journal articles on Latin America, including a chapter in the book Global Journalism: Topical Issues and Media Systems (2008). He is also the executive producer and host of "Latin Pulse" a weekly podcast distributed by Link TV, iTunes & SoundCloud.

Degrees

BSJ Broadcast Journalism (minor in Political Science), Northwestern University; MA International Journalism, University of Southern California
Loading ...

OFFICE

SOC - School of Communication
Mary Graydon - 330M
Mon. 3-4; Wed. 2-4; Thurs. 3-4; Fri. 2-4
FOR THE MEDIA

To request an interview for a
news story, call AU Communications
at 202-885-5950 or submit a request.
---
Partnerships & Affiliations
Executive Producer (2011-2012)

Production Consultant (2006-2009)
AU Expert
Area of Expertise: Freedom of expression issues, especially in Mexico and Central America; journalism repression; journalism ethics; media consolidation, ownership, and regulation; U.S. telecommunication policy; the media and Congress; broadcasting in the developing nations of Latin America, especially Central America; media coverage of the drug war in Latin America; drug issues in Central America; the media and foreign policy; politics in Mexico and Central America; television and film content issues; fluent in Spanish

Additional Information: Rick Rockwell, associate professor of broadcast journalism, is the coauthor of the book Media Power in Central America (May 2003), which won an American Library Association Choice Magazine Award as one of the top academic books in 2004. He is a contributor to Latin Politics, Global Media (2002), The Encyclopedia of International Media and Communications (2003), and Negotiating Democracy (2007). He is the author of the chapter on Latin America in Global Journalism:Topical Issues and Media Systems (2008). Since 1997, he has authored or coauthored 21 book chapters, government reports, and peer-reviewed journal articles on free expression, human rights, and communications issues. He has served as Washington correspondent and columnist for a Mexican national magazine, and his research has been translated for a leading academic journal in Central America. As a freelance writer in recent years, he has contributed to the Miami Herald, the Baltimore Sun, and Newsday. Rockwell has served as a consultant for the Washington Office on Latin America and that organization's Drugs and Democracy Project. During the 2003–2004 academic year, he was honored with a congressional fellowship from the American Political Science Association, based partially on his academic research on communication issues. During his fellowship he handled telecommunication policy issues for U.S. Senator Maria Cantwell (D-Wash.). He has been interviewed about politics and media issues by CNN, Voice of America, and the Columbia Journalism Review, among other media outlets. He has done interviews for media in Mexico, Venezuela, Brazil, Germany, and other countries.

Media Relations
To request an interview please call AU Media Relations at 202-885-5950 or submit an interview request form.