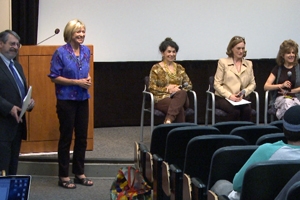 Producing the Historical Documentary Panel Inspires Lively Discussion
"Lens on the Past", an insightful panel about producing historical documentary films, took place at American University's School of Communication on April 9. It was hosted by Professor Alan Kraut from the College of Arts and Sciences History Department and Professor Maggie Burnette Stogner from SOC's Film and Media Arts Department as part of the new interdisciplinary course on producing historical documentary films.
The panel included Nina Shapiro-Perl, a professor of film and anthropology and award winning filmmaker of Through the Eye of the Needle; Libby Haight O'Connoll, Emmy award-winning documentary film producer and chief historian at History Channel; and Aviva Kempner, producer and director of the critically acclaimed Yoo-Hoo, Mrs. Goldberg and Emmy nominated and Peabody awarded The Life and Times of Hank Greenberg. They shared their experiences by showing and discussing clips from their films.
Students from SOC and CAS posed many questions about best practices, aesthetics, funding and distribution "I don't believe that history repeats itself, but I do believe that human nature remains the same," Dr. Libby O'Connoll said when asked about advice for emerging historical filmmakers. "You can find a wonderful story to tell and tell a great story."
To view the entire panel discussion, go to http://www.youtube.com/watch?v=TioeR76PkYw