"Greatest Scene Ever" is co-hosted by American University Professors Greg Smith and Kyle Brannon. Here's who we are: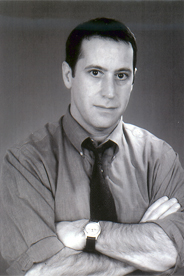 Professor Greg Smith, AU/SOC
Professor Smith earned his MFA in Film Production from American University and has been teaching film courses at AU since 2005.  In addition, he has worked as a producer, director, sound recordist and/or post-production editor on more than 60 feature films, documentaries and music videos for companies including IMAX, Lucasfilm, Paramount, Warner Bros. and National Geographic.  He currently owns and operates Pros from Dover Productions, a film and music production company based in Rockville, Maryland.  Greg has held senior staff positions at Lucasfilm, National Public Radio and CBS News and is a staff recipient of two of journalism's highest honors: the George Foster Peabody and Alfred I. duPont awards.  In addition to film and journalism, Greg has written and recorded six solo albums of original music, as well as theme music for a number of programs on NPR and CBS, and the theme music for "Greatest Scene Ever".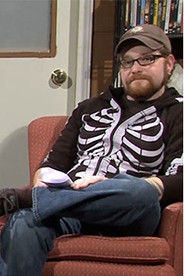 Kyle Brannon, Assistant Professor, Film and Media Arts

Kyle "Kylos" Brannon is a full-time professor of Film and Media Arts. He is a filmmaker, motion graphic designer, and VJ. His work with exhibit media has appeared in the Brown v. Board National Historic Site, the US Botanical Gardens, Historic Jamestown, the National Constitution Center and other spaces around the country. He co-produced and directed An Impression: Dischord Records, a short doc, with fellow AU professor Leena Jayaswal. It screened at festivals nation wide. Kylos mixes live video projections at a number of local venues including The Black Cat, U Street Music Hall & The 930 Club. Kylos and CAS Professor Jeffrey Middents (Literature), organize The American Visions DIY 48 - an annual film contest on campus.
Brannon directed the music video for Will Eastman's remix of Ruby Isle's "So Damn High" (Kindercore Records). It premiered on Magnet Magazine's website in Jan 2010 and was screened at the 2011 CIMM festival.
With fellow SOC professor Claudia Myers, Kylos developed a web series titled Stage Fright for NBC4's website. It won 3 awards at the 2012 LAWEBFEST. Currently Kylos is in preproduction for a webseries titled Billets Doux, adapted from a short story by Wendy Wimmer.