Innovative Media with Impact
The American University School of Communication (SOC) Master of Arts in Film and Media Arts will give you a professional skill set in film, video, and digital media for a successful career in the media industry. During your first year, you will receive a formal overview in media production so that you can focus your second year on refining your skill base.
Not only will you acquire professional competencies in scriptwriting, cinematography, lighting, sound recording, and editing, you'll also learn the historical, conceptual, and aesthetic foundations and frameworks of the art form and the industry. Extensive exposure to the latest in new media will go even further to help you tell your stories in the most effective way possible.
The flexibility of the program allows you to explore a broad range of aspects of video and filmmaking or to concentrate in one area of expertise. Stimulating internships with national media companies and networks and a semester intensive in Prague are just a few of the main opportunities you'll have access to. AU's Center for Media & Social Impact and Center for Environmental Filmmaking offer special courses, seminars, and screenings that will enrich your experience here.

You'll learn from faculty whose work regularly appears on television and movie screens, in bookstores and newspapers, and online. Emmys, Oscars, and a multitude of awards adorn the walls of their offices. Even more important is their intense dedication to advising and mentoring our students, helping you to forge connections within the industry.
If you're seeking to build your skills and your network so that you can go on to a successful career in the media industry, SOC's MA in Film and Media Arts is for you.

DEMONSTRATE YOUR COMMITMENT AND INTEREST
The School of Communications operates on a rolling admissions basis for our graduate programs. Applications are reviewed on an ongoing basis until programs reach capacity.
While previous exposure to film study, film and video production, or script writing is not required, you'll need to demonstrate a serious commitment to a career in this field. Your essay on your desire to and reasons for pursuing graduate study in the program will be essential, along with the other required application materials.
Our Film and Media Arts master's is a full-time program. Students are generally expected to complete the 36-credit-hour program within 24 months. First year students are required to attend our Film & Media Arts Boot Camp in August before their first semester. Boot Camp teaches you the essential building blocks for production. Focusing on a digital skill set, students will work on practical exercises to get up to speed with equipment and orient those with experience to the expectations of the programs in SOC.
Faculty Research Fuels Creativity
AU School of Communication faculty actively help you shape our world in positive ways. You'll engage in meaningful work with a profound impact as you strive to expand the constructive power of communication and media.
Our faculty members creative efforts range from dramatic films and documentaries to photojournalism and social advertising campaigns to interactive and immersive media for museums and national historic sites. Their award-winning work has been shown through national and international cable and network news outlets, on public broadcasting stations, and in films markets and film festivals around the world.
Their academic and professional engagements play key roles in raising awareness and shaping media messages. They use their years of experience in the field and their professional contacts to help launch the next generation of communicators.
Here are just some of the prestigious awards our faculty have won:
Academy Award
Emmy Award
Peabody Award
Mountain Spirit Award
Kavli Science Journalism Award (American Association for the Advancement of Science)
Distinguished Achievement Award (International Television Association)
LAWEBFEST (Los Angeles Web Series Festival)
Best Director and Best Scriptwriter (Washington Peer Awards)
CINE Golden Eagle Award
Pinnacle Award for Excellence in Media Education
George Stoney Award for Service to Documentary (University Film and Video Association)
Woman of Vision Award (Women in Film and Video-Washington, DC)
Fulbright Fellowship
Career Achievement Award (International Digital Media and Arts Association)
Research Award (International Communication Association)
Scholarship and Preservation Award (International Documentary Association)
Guggenheim Fellowship
Bronze Palm Award (Mexico International Film Festival)
Gracie Allen Award (American Women in Radio and Television)
Best Selected Juror Film (Small International Film Festival, Berkeley Art Center, California)
Nickelodeon Screenwriting Award
Financing Your Education
The MA in Film & Media Arts is a 36 credit program. To estimate the cost of tuition, please see the current cost per credit hour for graduate students.
The School of Communication (SOC) offers graduate students both merit-based and need-based financial aid. Merit awards are administered by the SOC Graduate Admissions Office, while need-based awards are administered by the American University Office of Financial Aid. A number of prestigious fellowships and scholarships are also available for students in the Film and Media Arts program. Additional financial support is available for veterans.
All merit awards are based on your academic merit and professional experience, specifically your undergraduate grades and leadership activities as well as career-related accomplishments. Merit awards are valid for one year—they vary in amount, are typically divided evenly between the fall and spring semesters, and are not typically renewable.
Some merit awards come in the form of graduate assistantships, which consist of graduate tuition remission, a stipend, or both. Tuition remission will vary in the number of credits offered. If you are offered a stipend, you must be employed as a graduate assistant for a SOC faculty member for 10 hours per week.
Fellowships
The School of Communication (SOC) offers prestigious merit-based fellowships in partnership with leading Washington, DC-based organizations. These fellowships provide varying amounts of tuition remission and stipend. Separate applications are required. The following fellowship is available to Film and Media Arts master's candidates:
With 84 million acres of land in 397 units, the National Park Service preserves and protects our nation's rich natural and cultural heritage for current and future generations. As one of the world's premier public land management agencies, the National Park Service maintains a headquarters office in Washington, DC and regional offices around the country. A partnership between the SOC and our Center for Environmental Filmmaking, this fellowship gives students the opportunity to develop video stories about our national parks and to explore media delivery systems for their deployment.
Research fellowships at academic centers within the SOC and throughout the university may also be available.
Unless indicated, students may not accept both a graduate assistantship and a graduate fellowship.
Film and Media Arts Scholarships
Confidence and Capability Behind the Camera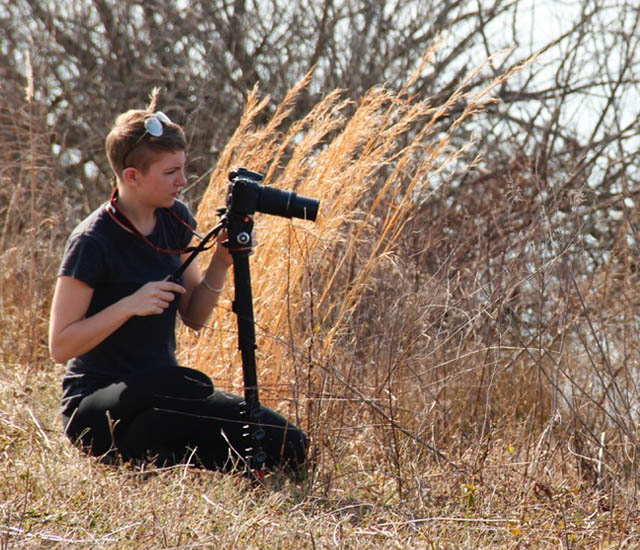 Ashley Holmes, SOC/MA '17
My skills, confidence, and determination all reached a new high.
When Ashley Holmes, a Center for Environmental Filmmaking Scholar, signed up for Classroom in the Wild, she wasn't entirely sure what to expect. She knew she would get hands-on experience in a natural setting. What she didn't know is that she would be walking away with more knowledge and capability than she'd gained from any previous class…and a compelling PSA. Producing "Meet George" boosted her technical skills and her confidence. Ashley went on to win the 2017 Eco-Comedy Video Competition with her entry "Planet B."
Our faculty have won Oscars, Emmys, Peabody Awards, and more!
Frequently Asked Questions