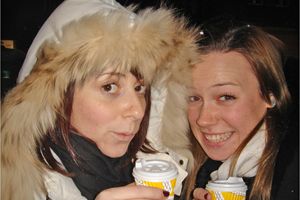 Casey Pallenik, '08, built a portfolio while touring Europe
I majored in visual media at SOC because I am interested in photo journalism, advertising or running my own small company that has something to do with visuals. I arrived in Prague to study photography one cold January day in 2007.



I chose SOC's Prague program for five reasons.
First, I wanted to study photography. I liked my Film & Video classes at SOC and got A's in them. But I LOVED my photo classes and taking pictures even more.
Second, I knew that the Prague program had a world-class master photographer that I could work with—Miroslav Vojtechovsky, or Miroslav as everyone calls him. Miroslav has been a mentor to SOC Photo professor Leena Jayaswal and to Amy Hendrick, who runs SOC's photo lab.
Third, I'd heard that Prague was one of the most beautiful cities in Europe — a great place to photograph.
Fourth, I liked the fact that because the photo program is part of AU's Central European Studies program, I would study with kids from other universities and learn about Czech culture.

Finally, I'd traveled throughout the United States and Canada, been to Mexico and even lived with a Nicaraguan family as part of a community service project in Managua, but as for Europe, I'd only been to Germany to visit my high-school room-mate. I wanted to do more than visit. I wanted to live in Europe and see as much of it as I could. The Prague Program let me do that.
A Challenging Academic Program
The academic program in Prague is challenging. You take two photo courses, three language and culture courses, and travel through Central Europe, where you learn still more about its history and economics.
The photo courses in Prague are intense.
Miroslav is more than a master photographer; he is also a master teacher. He will give you more individual attention than any teacher you have ever had. He will teach you to mat your photos in his own home studio and spend hours with you in the darkroom, working on your negatives.
Because Miroslav is such an accomplished photographer, he can teach you how to photograph what you're most interested in. For example, I was in Prague with another AU photo student who loves landscapes, lighting and dramatic, carefully composed shots.
I love taking pictures of people, especially on the fly. I care about photography as journalism, not art. Miroslav was an outstanding teacher for both of us. The Prague program offers two other important assets for photo students—a darkroom and plenty of photo exhibits in the city. I shared my darkroom with one other AU student. No waiting in lines. It was ours. And Miroslav was there to critique our work as we did it.
Prague has a rich cultural life; it is full of photo exhibits—and Miroslav knows about each one of them. You go to these shows and critique them for him. You learn from other photographers.
The other courses deepen your knowledge of the region.
Photo students are also required to take three other courses that helped me fulfill my Gen Ed requirements here at AU. I took required courses in Czech language and Czech history plus an elective, in Czech cinema.
Finally, we traveled as a group to Vienna, Budapest, Bratislava, and a half dozen small towns in Moravia.
Living and Traveling
Besides my academic trips, I traveled almost every weekend to other European cities, including Paris, Barcelona, Naples, Athens, Heidelberg and Frankfurt.
During the week I lived with five other girls in a three-bedroom apartment in the center of Prague. It was clean, warm and everything worked. We took the tram to our courses.
Prague is one of the most affordable cities in Europe—something that is even more important now than it was last year because of the exchange rate. Our program director was a Prague native who knew the city well and was always available as a resource to help us with visas, tickets and anything else.
Benefits
As a result of my semester in Photo Program, I've improved my photo skills and built a portfolio full of shots from Prague and other European cities. I've gained independence, self confidence and a new perspective on a completely different way to live; one that values more than money and success--one that appreciates the moment.
Would I go back?
In a heartbeat