Pearl Harbor Films Win Acclaim for Alum
By Rosemary D'Amour
December 6, 2011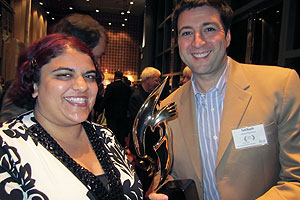 2011 marks the 70th anniversary of the attacks on Pearl Harbor, seen as the launching point for the United States' involvement in World War II. 
Most of the commemoration will, understandably, focus on the American perspective of the events of December 7, 1941, but two films by American University's 2010 Outstanding Graduate Scholarship award recipient offer the perspectives of those in Japan who were directly involved or affected by the events of that day.
The two films by Ted Roach, SOC/MFA '11, selected for the St. Louis International Film Festival in November, I Sank the U.S.S. West Virginia and Letters From My Father, feature archive footage from Pearl Harbor and interviews with those involved.
"There are interesting lessons on each side, for the Japanese and Americans--reasons why people go to war, what drives citizens--it's very important to capture this for history," said Roach, who has also worked with SOC's Investigative Reporting Workshop and the NOAA.
"I'm really proud of being a part of preserving these memories. There are so few people left who can give firsthand accounts of what happened there," he said.

The two films are part of a series of 11 films made by Roach and Aditi Desai, a SOC MFA candidate in Film & Electronic Media, in the summer of 2010, as part of a project for the National Park Service.
Chuck Dunkerly, the Film Producer and Director for the National Park Service, helped provide direction for Roach and Desai during the completion of the project, entitled "Remembering the Pacific," which is featured as part of World War II: Valor in the Pacific on the NPS site.
"We have this idea about Pearl Harbor, about the way things went, but what [Ted and Aditi] were able to do is really craft individual perspectives about the events of the day that perhaps you haven't heard before, or seen before," said Dunkerly.

Films from the series have been in several festivals, and Roach and Desai jointly won the prestigious 2010 CINE Golden Eagle Award for the full series. Professor Chris Palmer, who along with Dunkerly initiated the partnership between SOC and NPS, assisted in selecting the two students for this project, and said that the professionalism of the work helped to solidify the partnership between the school and government agency.
At NPS, Roach and Desai each pitched their own story proposals, and used transcripts of interviews and footage to develop them, and ultimately overcame translation accuracy issues that included an older dialect of modern Japanese that was little understood.
Because these films preserved these little-known memories from Pearl Harbor, Roach said the benefits of this project could be felt not only by historians looking to study the event, but also for citizens who wanted to learn a good story.
"That's the great thing about film, if you do them the right way, you can reach people who weren't consciously out there looking for a history lesson," said Roach, who is working with NPS to make the films more visible. "It opens people's minds, and provides cinematic entertainment for what could be a pretty esoteric subject."
"Ted is an extraordinary person, he is passionate and amazingly professional in the way he goes about his work," Palmer said. "He will do anything that is required to meet the promises he makes, and on top of this, he does just outstanding work as a filmmaker."
Roach said that an unforeseen benefit of his experience was that it opened up a variety of new possibilities as a filmmaker, and one which current students could take a cue from.
"I had never thought of the National Park Service--but that's what's really interesting about connections at AU," he said. "I hadn't really considered jobs in these areas, but there's just a great job pool, and you get to do some really interesting things."