Journalism
Learning from the Best in a Legendary Newsroom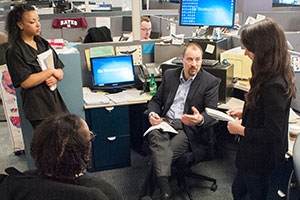 A byline in the Washington Post.
There are journalists who labor their entire careers without ever seeing their names appear atop a story in one of America's best-known, and most respected, newspapers. 
And there are students at American University's School of Communication who have already accomplished this feat before receiving their degrees.
In some ways, a byline may be simply the most visible benefit AU students derive from a new, one-of-a-kind collaboration SOC's Investigative Reporting Workshop recently developed with the Post, the latest in a long and successful partnership between SOC and the news outlet. 
More important, these aspiring newshounds get the chance to work with–and learn from–some of the best in the business, right there in the Post newsroom.
They can thank John Sullivan for that. 
Sullivan, a Pulitzer Prize-winning investigative reporter himself, moved to Washington earlier this year to join the SOC faculty as a full professor and Investigative Journalist in Residence. But his faculty position is just one of three hats he now wears. As part of an unusual joint-hiring arrangement, he's also a senior editor at the Investigative Reporting Workshop. And–crucially–he's a member of the Post's multi-award-winning investigations unit. So he serves variously as teacher, as mentor, as gatekeeper, as matchmaker.
He's busy. And he couldn't be happier. 
"It's insane what these kids are getting to do! It's truly the most remarkable program in America!"–in part, because it's happening inside one of the most important newsrooms in America.
An Unprecedented Level of Collaboration
"It's unprecedented," claims IRW executive editor Chuck Lewis, who wooed Sullivan to AU. "To jointly hire a Pulitzer Prize-winning reporter…with one of the two leading daily papers–it's never happened in the U.S. That, and integrating with the faculty as well as the workshop, and having a course inside the newsroom, at the Post –I mean, that's just simply never happened, that level of collaboration."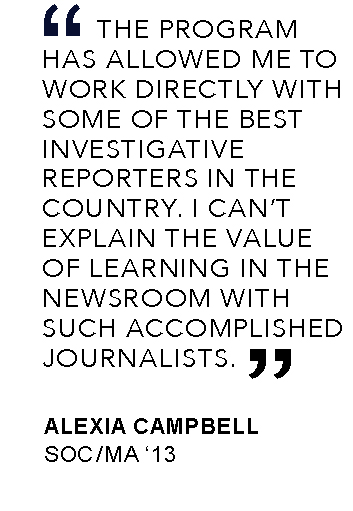 Which isn't to say that either man envisioned the full dimensions of the collaboration from the get-go. It was while Lewis–"a giant" in the investigative-reporting field, Sullivan says—first explored the idea of recruiting him that Sullivan paid a visit to his longtime editor at the Philadelphia Inquirer, and then, Metro editor at the Post, to talk over his options. Vernon Loeb heard him out, Sullivan recalls, then had wrinkle of his own to suggest. 
He asked whether Sulllivan would be "interested" if Loeb and Lewis could find a way to expand the project to add a reporting job at the Post to Sulivan's teaching and administrative duties at AU.

Interested indeed: It would be a chance for Sullivan to continue reporting, which he loved; to expose students to the pace and demands and standards of a working newsroom, which he knew they'd love; to give those students a chance to work on Metro stories as well as investigative projects; and to provide his new and overworked colleagues at the Post with extra help from some well-trained and highly motivated future journalists.
And, with Sullivan working alongside the students in that newsroom, his Post colleagues wouldn't have to worry about coordinating student assignments, schedules and the like: "I'm the one who tends to them. 'What are they gonna do today?' isn't an issue."
But could he shuffle the multiple hats to everyone's satisfaction? Sullivan wasn't sure. He convened a meeting: Lewis, Loeb and Jeff Leen, the Post's investigations editor. 
"We all got in a room together," Sullivan recalls, and he raised his main concern. "I work for all three of you? None of you are going to be happy!" He needed everyone on the same page: "What's your measure of success for this arrangement?"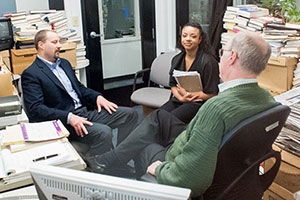 John Sullivan and journalism graduate student Danielle DeCourcey meet with Jeff Leen, assistant managing editor of the Post's investigations unit.

The answer they all agreed on, it turned out, was: "high-quality journalism, with student involvement." There'd be a sufficient number of students to help the reporters work on their projects, and few enough that Sullivan would also have time to work on his own projects. (The magic number this semester is five.) The students would report and write Metro stories. They'd also be exposed to all aspects of the investigative projects they assisted on elsewhere in the paper, whether or not they received bylines on those pieces.
They could even pitch investigative-story ideas to Sullivan, and with his approval, develop them, but the Post wouldn't be obliged to print "whatever [students] produce," but only those stories that met the newspaper's standards and were pertinent to the Post's readership.
"If it's not in our sweet spot," he makes clear, "we won't run it."
Meanwhile, having students working on newsroom rhythms rather than classroom rhythms has helped broaden their range of possible assignments beyond the dictates of the academic calendar; if the Post wants it to happen, they can stay with a story beyond the end of a semester. There's Sullivan's own class, conducted in the newsroom and drawing on the invaluable experience of actual working journalists. And with many of the Post's investigative stars having prior teaching experience, the students are ideally positioned for learning at every turn.
A Model for Other Universities, News Outlets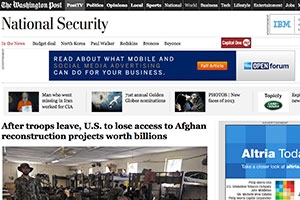 AU student Jessica Schulberg contributes to Washington Post investigative piece through SOC's investigative practicum.

Other leading journalism schools have taken note of the innovative partnership. Several already have contacted Sullivan for advice on how to replicate this new model. But for now, it's an SOC exclusive.
"It's a tremendous benefit to our students to work alongside these people," Sullivan says. It's also "a way to give them what they need—clips—but the kind of clip they can't get anywhere else: an investigative clip from the Washington Post."

At the Post, Investigations Editor Leen calls it "a terrific arrangement for all parties." Acquiring the necessary investigative-reporting chops, Leen points out, has always happened in ways somewhat like this. "Older veterans have taught newer people this skill since the beginning of time, so the mentorship aspect is nothing new to us."
Another positive factor? "AU is giving us its best and brightest. These are students who have already proven themselves."
And they will continue to prove themselves, says Sullivan.
"Working as part of the Post investigative team is an experience unique to students at AU. It just doesn't happen anywhere else."