Award-winning Animator Discusses Culture and Copyright
By Cindy Conn
March 2, 2010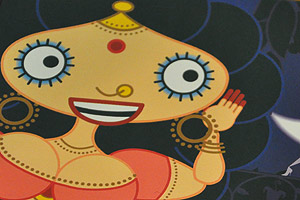 Animator and filmmaker Nina Paley believes that "all creative work builds on what came before." Her experience with copyright law while creating and releasing Sita Sings the Blues strengthened these convictions and led her to "Copyleft" her film, and join QuestionCopyright.org as an Artist-in-Residence. The film has screened in over 50 film festivals and won over 35 international awards.

Paley shared her journey and thoughts on about culture, creativity, and distribution with an audience of American University students and industry professionals at the School of Communication's Wechsler Theater. The SOC Women's Collective, the SOC Graduate Leadership Council, the School of Communication, and the Washington College of Law sponsored this event.

The story begins in India, where Paley discovered the Ramayana, an ancient Hindu epic. After returning to the United States, she grew obsessed with the story, especially the section about Rama's wife, Sita. Paley drew mainly from texts to create her own narrative in an animated film format. She gained visual inspiration from the traditional art related to the Ramayana, and in some scenes followed these styles closely to show respect.

Her final film used music from the 1920s singer Annette Hanshaw. Paley knew it would be risky using old songs, but didn't know the extent of the copyright restrictions until completing legal research on the issue. Paley found she owned a finished film but couldn't share it with viewers because of the high fees demanded by the song licensors.

Paley came to believe that copyright was a type of "cultural ownership," which she sees as equivalent to censorship. She ultimately paid the licensors a small, negotiated fee necessary to gain access to the songs, and then released the film through a Creative Commons Attribution-Share-alike 3.0 Unported license.

Sita Sings the Blues was soon available online in the public domain. Paley recoups her licensing fees through donations and the selling of merchandise related to the film. She is flattered when she finds images from her film in derivative works; she doesn't see it as competition. Paley feels like another branch on the cultural family tree of the world.

Paley is currently working with QuestionCopyright.org to create a series of short videos, called Minute Memes, about copyright restrictions and artistic freedom.