Television & Film
Student and Alum Work on Set of 'House of Cards'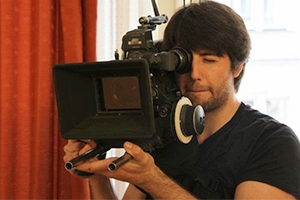 The chance to be part of creating an Emmy-winning series is a huge opportunity. Mike Brown (BA/FMA '13) and Michael Jee, a current graduate student, made the most of being members of the team behind "House of Cards," a Netflix original series starring Kevin Spacey and Robin Wright.

"What you see on camera almost mirrors what is behind it," Brown said. "It's so political and fast and cut throat. The team is really great and wastes no time. Everyone has a specific job. The collaboration between having great actors and writers, and a multitude of directors, is really what makes the show what it is."

A Whirlwind Experience

Brown began as an intern in the show's casting office, but getting to that point was a whirlwind experience. No less than two days after graduating from AU, he received a phone call inviting him to work on "House of Cards." The next day he drove to Baltimore to start. From there, the excitement and unexpected turn of events continued.

"I had my 'Harrison Ford moment.' A few hours before a shoot, a stand in for a main character dropped out. The assistant director looked at me and asked 'how tall are you?' then put me in wardrobe and went through the lines," Brown said. "Although I had little experience with acting, I knew the technical side, so I was doing things before they asked me to. Now I'm a stand in for Michael Kelly, Sam Page, and Sebastian Ursula. I also got to be a hand double in season two!"

From Behind the Scenes to In Front of the Camera

Originally, Jee hadn't considered interning during the summer, but when he heard about the opportunity to work on the set of "House of Cards," he could not resist.

"From a writer's background, I think the writing is very strong. What makes the show unique is the way the writers have created multidimensional characters. You don't know who the good guy or the bad guy is, and since these characters have so much depth you never know what kind of choices they are going to make to drive the narrative forward," Jee said.

Jee thought he would primarily be working behind the camera, but ended up in front of it when he landed a role as a White House journalist. While he did not have any speaking lines, he found the experience inspiring.

"As an actor you are definitely forced to really immerse yourself in a story and make it true," Jee said. "Since working on 'House of Cards' I became interested in the idea and signed up for an introductory acting course."

"One of the most memorable moments for me was talking to the director and one of the actors briefly over the break. They have a lot more experience doing what I am aspiring to do. It was a moment when I felt like they were just a human being too, and the work I am trying to pursue didn't feel like such a daunting challenge," Jee said.

Great Opportunities Available Anywhere

Working on the set of "House of Cards" has given Brown and Jee the opportunity to observe the talent of those in their field, as well as insight into pursuing future careers in the industry. It is an experience for which both are grateful that left them with an appreciation for their educations at American University's School of Communication.

"I encourage everyone to keep believing in the possibilities and make connections. Don't be blinded by the idea that there is only LA or there is only New York. Because I think for some people it is better to be a slightly bigger fish in a smaller pond than to be minnow over in the Pacific with fewer options and fewer shoots," said Brown.

Or as the show's anti-hero protagonist, Francis Underwood, said in the first chapter, "Power is a lot like real estate. It's all about location, location, location. The closer you are to the source, the higher your property value."

"House of Cards" was nominated for nine Emmys this season. The show's director, David Fincher, won Outstanding Directing for a Drama Series. The Netflix show also received two Creative Arts Emmys for Outstanding Casting for a Drama Series and Outstanding Cinematography for a Single Camera Series.