Television & Film
Nieman Foundation Awards Major Journalism Prize at AU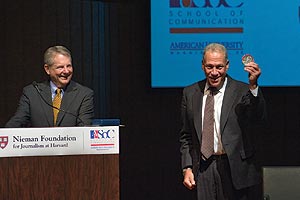 Veteran reporter and documentary filmmaker Jon Alpert was honored last week by the Nieman Foundation for Journalism at Harvard University with this year's I.F. Stone Medal for Journalistic Independence in a ceremony held at AU.
Partnering with the School of Communication in the event, the Nieman Foundation honored Alpert for a spirit of independence, integrity, and courage.
Alpert has earned respect in a career spanning the globe. He covered Cambodia's "killing fields," the Sandanistas in Nicaragua, the mujahedeen in Afghanistan, political change in the Soviet Union, and the streets of New York City.
He gave a keynote address, followed by a panel discussion with journalist and author Barbara Ehrenreich, Pulitzer prizewinner Christopher Hedges, and veteran Washington Post reporter Walter Pincus. The moderator was Harper's magazine publisher John MacArthur.
SOC graduate student Russ Choma was also honored at the ceremony with a $1,500 award for his entry in an essay contest held in connection with the prestigious award. His essay defined journalistic independence as "the ability to resist the temptation to pander" and avoid the impulse "to skip the hard truth for the sake of provocative truth . . . (and) spin it forward or side to side."