Television & Film
Professor Joins PBS on Search for the 'Human Spark'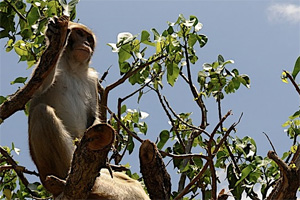 From the cavernous halls of the American Museum of Natural History to the jungles of Puerto Rico, SOC professor and Emmy-winning filmmaker Larry Engel has pursued the meaning of life itself.
Engel is director and director of photography of the new PBS production, The Human Spark. The three-part series examines what makes humans unique and compares our extinct ancestors with modern relatives. The Human Spark is hosted by Alan Alda, six-time Emmy-winning actor, director, writer, and bestselling author.
As part of the series, Engel filmed an exercise in Long Island, NY meant to demonstrate the difficulties of primitive tools and weapons. The crew, armed with basic spears, heads out to a football field on a local university campus. "Everyone, including Alan, is taking aim at a Styrofoam deer that [Archaeology Professor John Shea] plopped down in the middle of the field. No one is doing a very good job of hitting the target, and I'm trying not to laugh too hard and shake the camera when a spear does make its mark," writes Engel in his blog.
Engel also traveled to the Puerto Rican island of Cayo Santiago for The Human Spark. The island, Engel writes, is the home of a group of monkeys brought over by North American researchers in 1938. Since the small island could not provide enough food for the 1,000 monkeys who live there, feeding stations were built. "To get to the food, the monkeys have to open metal bins. The lids clang off-and-on throughout the day, and while we were filming this sound drove me nuts. An otherwise peaceful setting was constantly dotted with the clinging and clanging of what sounded like, at least to me, crazy garbage men at work," Engel writes.
But at the end of the day, Engel sees past the inconveniences of filmmaking. "I really enjoy filming animals," Engel says, "especially primates. When I'm looking into the eyepiece, through the lens, most of my world disappears and I'm in their world. I don't see us; I see them. I'm drawn into their world, I look into their eyes, and I wonder what they are thinking about me. Do they look at us and think that we look somewhat like them?"
The SOC professor spent two weeks in August working on a documentary about climate change refugees, which also aired on PBS.