Alum Cecilia Domeyko Receives "Women of Vision" Award
By Rosemary D'Amour
October 26, 2011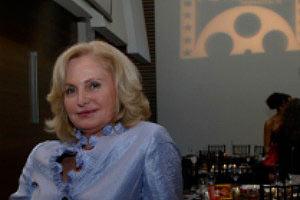 Cecilia Domeyko received her master's degree in Film and Video Production in 1983, before the School of Communication was separated from the College of Arts and Sciences—but her work at AU, and since, has adhered to the same principles that guide SOC today.
"Where you put your passion is where you're going to be successful," Domeyko said. "And it's how you're going to reach other people, because it's coming from a personal place, it's based on strength."
Domeyko, an independent filmmaker, former journalist, and co-founder and president of her own production company, Accent Media, received the 2011 Women of Vision Award in October from Women in Film and Video.
"I feel a compulsion to communicate," Domeyko said. "I've felt that from the time I was a child, this deep need to transmit my ideas, and hopefully, get a response."
The daughter of a Chilean diplomat, Domeyko was brought up in the U.S., Canada and Australia, and says that her experiences as a bilingual communicator have helped shape her focus.
Domeyko's experience, whether as a Washington Bureau Chief for Chile's Channel 13, or producing documentaries like Cuba Mia, about an all-woman orchestra in Havana, have all carried themes of education and nonviolence towards women.
"In my case, I had patterns emerge of what I wanted to do, what I wanted to talk about," she said.
In 1988, Domeyko founded AccentMedia with her husband, Jack Jorgens, a former AU professor and one of the founders of its Film & Media Arts program, focusing on bilingual and bicultural education programming. The company has since expanded, and Domeyko has balanced her life as a mother, writer and businesswoman all while believing in the overall goal of her work.
"It amazes me when I see people communicating ideas about an issue simultaneously," Domeyko said. "All of those had to have begun with a first idea, a first publication, a first story, and soon, you have a lot of people talking or writing about the same thing—you can transform society, maybe one story at a time."
The media professional has become a jack-of-all trades within her industry, managing both independent creative work and contracted work-for-hire, in which she and her colleagues at Accent Media come up with the ideas, produce, direct, distribute and market their projects.
Domeyko said that working with her husband has been a great benefit, not only as someone with whom to ride the rollercoaster of starting a business, but also in the creative process.
"We complement each other very well," she said.
The Women of Vision Award Domeyko received on October 6, 2011, while not the first recognition she's received for her work, was incredibly touching, she said, because it meant a recognition from peers who understood the business.
"They more than anyone really know what it takes to produce, especially independent work, they know how hard it is," she said.
Although some might look to this type of award as a moment to bask in the glory, Domeyko said that, more than anything, it was a motivator for her to continue in her life's work of communication.
"It's an acknowledgement, yes," she said. "But really it's a boost, telling you to keep going, rather than stop and meditate."