Achievements
Commencement Speaker's Path from the Daily Show to Hollywood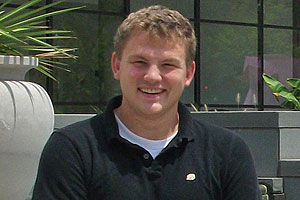 Throughout his studies, Peter Kimball, the School of Communication graduate commencement speaker, has capitalized on opportunities wherever they appeared. As the teaching assistant for Distinguished Producer in Residence Chris Palmer, Kimball helped manage SOC's Center for Environmental Filmmaking and co-authored eight articles with Professor Palmer.  
Off-campus, he interned at Discovery Communications, German Network News, and The Daily Show with Jon Stewart and nabbed one of SOC's competitive Technology fellowships at the Associated Press.  All while earning his MFA in Film and Electronic Media with a 3.92 GPA, which helped him nab the American University's top honor for graduate achievement, the Outstanding Scholarship Award.

Kimball says, "I am very honored to have won the Outstanding Scholarship Award. I have gotten so much out of the classes and experiences I've had at American that I always wanted to give it my all. My professors have done an excellent job of helping me see the importance and application of all the things I've been learning, which helps me want to focus and do my best. I have not gone through school striving for good grades but instead working to learn and master the material. I think that attitude is essential to getting the most out of school and having a rewarding experience."
"Peter worked as my TA for over a year and did a superb job," says Professor Palmer. "He was extraordinarily diligent and professional and never failed to deliver on the promises he made. He's also a superb writer. He would no more write a poorly worded sentence than show up late for a meeting.  He has exacting standards and strives mightily to constantly improve and learn.  I felt greatly honored and privileged to have someone of his caliber helping me run the Center for Environmental Filmmaking and assisting me with my research and writing."
Kimball worked for the Associated Press the summer of 2011 in a paid position with a team that is transitioning AP's video production from standard to high definition. He found the opportunity through SOC's Dean's Internship program, which provides internship and employment opportunities for students with SOC's key partners.
Kimball said the most valuable aspect of the job was having his horizons broadened by his experience at the AP. "The people I have worked with have been helpful, friendly, and encouraging," said Kimball. "They have given me worthwhile and interesting tasks to work on and they have treated me as a full, valued member of the team."
Prior to his internship at the AP, Kimball attended a production assistant training seminar AU hosted, helping him snag a two-week job on the crew of the Daily Show with Jon Stewart. The show was broadcast from Washington, D.C., in the lead-up to the 2010 elections.
The gig fit nicely into Kimball's career plans to write for television and film. "I think learning as much as I can about all aspects of the entertainment industry is important. Also, everyone loves the Daily Show so I think it's a great name to have on a resume," he said.
He sees being at SOC as fundamental to his success. "Everyone in SOC, from the professors to the administration to the extremely helpful staff, has helped me along the way to follow my interests and develop my talents. One of the best things about the film program at American is that it allows students the freedom to shape their own programs and focus on those areas most interesting and important to them. As an aspiring screenwriter, it will ultimately be important to be in Los Angeles, but the professors here at American teach the fundamentals of writing and storytelling as well as anyone anywhere. Whether students are interested in documentary or journalism or fiction, there are programs and mentors for all of those directions. For my interests, American is definitely the perfect fit and the best film program in the entire District."
After graduation, Kimball plans on moving to Los Angeles to pursue a career as a screenwriter. His MFA thesis was a feature film script. Once in LA, he will work as an assistant at a literary management company while writing and fostering relationships in the film industry.