The Sky's the Limit for Alumna's Film
By Rosemary D'Amour
November 7, 2011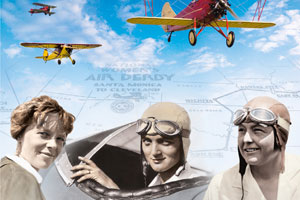 Heather Taylor's documentary, Breaking Through the Clouds, a profile of the pilots of the first women's national air derby in the 1920s, has taken film festivals across the nation by storm and has won several awards, including the Combs Gates Award from the National Aviation Hall of Fame.
But it's been a bumpy ride; as her first independent project, she said that she encountered difficulties that seemed to range from poor planning to just plain bad luck.

"As an independent filmmaker, you have to do everything," Taylor, SOC/MA '97, explained. "I know how to make a film, but I didn't know how to sell it—that's been an abrupt eye-opener." 

Taylor has chronicled the process on the BTTC blog. Despite the challenges, Taylor says beyond the recognition she's received— Breaking Through the Clouds has been an official selection of more than 11 film festivals so far—she says that the added value she's found has been in the story itself.  
"I build relationships, built trust with these people who I'm involved with in producing this, the people whose stories I'm telling," Taylor said. "While it took a long time to do, it was worth it."  
Taylor received her degree in Producing for Film & Video just before the idea for BTTC hit. The project, 13 years in the making, was inspired by her experiences at home.  
A native of Tennessee, Taylor was interviewing a woman who was featured in the Guinness Book of World Records, when she mentioned an air derby that featured the likes of Amelia Earhart.  
"Something clicked in me," Taylor said. "I thought, 'I've gotta know more about this.'" 
The idea for the film, which features original footage from the event in 1929, went on the back burner for years. 
"I said, ok, if anyone's going to do it, it's going to have to be me," Taylor said. She left the security of her production manager position at Discovery Communications in 2007, just prior to the global economic meltdown.  
"Looking back, I don't know if it was courageous or naïveté, that idea if you knew then what you know now," she said, laughing.
Whatever it was, as the film continues to earn applause and awards, it looks like a smart decision.