New Grad Council Leaders Want to Better Connect SOC Communities
By Rosemary D'Amour
October 3, 2011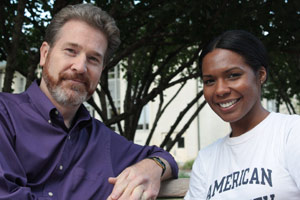 Student leadership plays a big role in helping graduate students overcome a commonly felt disconnect from traditional campus life. Helping these professional students feel included in the campus environment is the biggest goal of the 2011 SOC Graduate Council.
Ayofemi Kirby, President of the Grad Council and second-year graduate student in the Public Communication weekend program at SOC, balances a full-time career as director of strategy and programming at Mobilize.org with her education, and said that her desire to be a part of the AU community led her to the grad council.
"There are so many opportunities to get involved, both on and off campus, that AU provides—discussion series, conference series, film series, and these are things I wasn't aware of in my first year," Kirby said. "I wanted to make sure that students knew they had a voice in the governance of the university."
Making students more aware of the programs and activities already happening on campus is a matter of increasing communication between organizations and programs at SOC and the greater AU community, said Carl Randolph Boles, the Grad Council's Vice President and second-year student in the weekend program for Producing for Film and Video.
"Rather than trying to reinvent the wheel, we want to help support those programs that already exist," said Boles. "We're reaching out to organizations and committees that are already working on campus, seeing how we can help them."
Boles, a professional actor, director and teacher who runs his own special effects make-up company, Morphiage LLC, said that getting more involvement on campus would require changing the culture of SOC, and getting students and academic divisions communicating with each other, something which both representatives noticed was lacking.
Boles says the two want to "see how we can involve all of SOC together across disciplines."
The Council released a graduate student survey during the summer to get a better idea of what students were looking for from their council and their graduate experience. The results showed students are interested in more close-knit conversations and events with industry professionals and fellow students, as well as community service opportunities.
Kirby said that there was a strong sense of community within divisions at SOC, and that she found a supportive, almost family-like atmosphere with her cohort in the weekend program. But, she said, she noticed that there wasn't as much interaction with the campus, or even SOC as a whole.
"To my knowledge, SOC hasn't had that sense of division spirit and school spirit," Kirby said. "We love the school, we love the quality of the education we're getting, but we want students to feel engaged outside of the classroom."
Kirby and Boles, who both ran unopposed in the election for the grad council, said that although their weekend programs provided a better opportunity to balance professional and educational careers, their experience on campus was limited.
Boles said, "Most of the programs and events happen during the week, and what we want to do is get the information out for everyone."
Sharmeen Ahsan-Bracciale, SOC's Director of Graduate Services, says that she and her staff have been working to develop connections between the full-time, part-time and weekend SOC graduate students. "It's always been a challenge to make our weekend program students feel part of the SOC graduate student community. In an effort to do so, the Graduate Office holds several events throughout the year, including our annual summer barbecue, happy hours, trips to the Newseum and sports events." 
SOC's graduate student leaders said that taking advantage of the AU community and environment is crucial not just for success beyond school, but for success during school as well.
"Washington, DC is the best learning laboratory in the world, and at AU you are really able to connect and learn from the best people in the business," said Kirby. "We want to give graduate students the chance to really connect with these people."