Television & Film
Students Join Environmental Film Guru on Excursion To the Arctic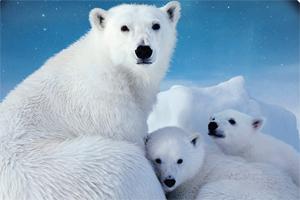 SOC students, staff, and faculty recently visited the Smithsonian's National Museum of Natural History IMAX theater to see To the Arctic IMAX 3D with the film's Executive Producer, Center for Environmental Filmmaking Director and SOC professor Chris Palmer. 
The film, featured daily at the museum, takes audiences to the top of the world to follow Arctic polar bears and seals as they forage a life in this unforgiving land. Warmer climate and melting ice caps make survival an increasing challenge in the changing wilderness.
(Photo: SOC students gather around the iconic elephant in rotunda of Smithsonian's National Museum of Natural History before seeing "To the Arctic IMAX 3D.")
Caribou, walrus, arctic birds, a polar bear mother with her two cubs, and an Inuit tribe are the stars of the film narrated by Meryl Streep. Lexy Ruperti, SOC graduate student, observed, "I'm glad they included not just the animals, but also the human challenges of living in that harsh climate."
Palmer introduced the film to the crowd of students and a few tourists, explaining the difficulties of shooting IMAX film to capture creatures in the wild. "The camera is gigantic, weighing 150 pounds, with a 350 pound camera housing, he described. We filmed in underwater in freezing temperatures, ideal conditions for cameras to jam, hands to freeze, and regulators to break."
Some interesting filming techniques were highlighted in the film itself, such as camouflaging equipment in cases concealed as ice chunks. The technique kept camera-shy polar bears and other animals from fleeing. SOC student Katie Bryden remarked, "the film was inspiring, and I loved learning about the creative filming equipment they use."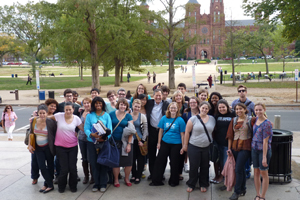 [Photo: SOC students with Palmer (center) outside Smithsonian's National Museum of Natural History.]
Despite the filming difficulties, Palmer and his team were eager to bring this Arctic experience to the world through the grand IMAX experience. "Why did we make this film on the Arctic? Because we're projecting on huge screens five or more stories tall and transporting audiences to that amazing and vulnerable ecosystem. We feel it's the best way to show people this beautiful place, why they should care, and ultimately get them to want to protect this place."
The 39 SOC students who took advantage of the fall fieldtrip, sponsored by SOC's programs & partnerships office, came away with a far greater understanding of life in the Arctic and how climate change is affecting the ecosystem and the animals that depend on it.