Former Fox News Commentator Takes Beck, Obama to Task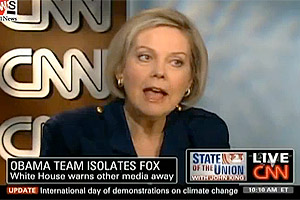 Jane Hall is known for speaking her mind. As a Fox News commentator for over a decade, she held her own with  heavyweights like Bill O'Reilly and conservative commentator Bernard Goldberg, with whom she debated media ethics on a weekly segment, "Bernie and Jane," on the highest-rated program in cable news, "The O'Reilly Factor." Hall was a weekly panelist on "Fox News Watch," the channel's media-analysis program, since Fox News Channel began. In the weeks since she made the decision to leave the channel, she's been making news of her own.
Her remarks about Fox--and her comment that Glenn Beck of Fox News was a factor in her leaving--was posted on You Tube--and excerpted and commented on by media commentators from the right and from the left as well as by media reporters.
On PBS NewsHour last week to talk about Fox and the White House, Hall said that she thought the White House plan would backfire, "It only helps Fox News' pundits drive up their ratings. I don't think it accomplishes much."
Her comments drew attention from Poynter's Romenesko and led to an appearance on CNN's Reliable Sources media show, hosted by Howard Kurtz of the Washington Post.
Kurtz asked Hall about her decision to leave Fox News. "I think there's less debate than there was, and I'm also frankly uncomfortable with Beck, who I think should be called out as somebody whose language is way over the top and it's scary," said Hall. Those words rocketed around the blogosphere, appearing everywhere from Newsbusters to the left-leaning Talking Points Memo.