Launching the Sun Valley Film Festival
By Rosemary D'Amour
February 20, 2012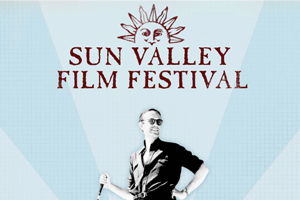 Dana Plasse, who received her MA in film and video in 1996, is the director of the new Sun Valley Film Festival, which runs from March 15 to 18 in the secluded town of Sun Valley, Idaho.
Plasse has always been a storyteller. From a theatre background, her career path led to roles as a journalist and filmmaker. With the launch of the festival, she continues her focus on telling the stories of others.
Nearly thirty films will be shown, ranging from short documentaries, to web series, to feature-length films, but all will carry the signature of original, independent stories.
"If we were going to do this, we wanted it to be a cultural event," Plasse said. "Film brings the world to people, and that's an underlying motto of our work."
Sun Valley is to be the first ongoing film festival in Idaho, Plasse said. Her involvement in its development began after she moved to Ketchum, Idaho, a secluded town that for the past seventy years has harbored some of the most influential filmmakers in the industry.
Following a media blitz in 1936 for the opening of America's first ski resort in Ketchum, Sun Valley became a haven and vacation spot for Hollywood celebrities—and has since developed into a haven for the likes of Tom Hanks, Jamie Lee Curtis, and Clint Eastwood.
"It ended up fostering a film community here, but one that's unlike any other film community out there," Plasse said.
The seclusion of Sun Valley can provide a niche market for the film industry, but can prove hazardous for promotional purposes.
"It's almost impossible to get to," she said. "But that can be an advantage—it makes it a bit more exclusive, and a great setting for a festival like this."
Plasse used her experience from the myriad film festivals she has attended both as a film student at SOC and as a writer for publications like Indieplanet to develop Sun Valley. But she knew that to foster a lasting institution in Ketchum that would provide a unique perspective for the film industry, she needed the flavor of the local community.
Lucky for her, "[t]he response has been unbelievable," Plasse said of the sponsors and participants in the festival. "[W] set for years to come with this support network."
She added that the efforts to produce Sun Valley were rooted in the desire to differentiate it from other festivals, both in its setting and tone. Among these efforts are awards that will be given at the end of the festival's run, including the "Vision Award," which recognizes the contributions of producers to independent films, and the "One in a Million" award, which will honor a film which was made with a budget under one million dollars.
"It's kind of fun to be able to take those elements that make our community what it is and take it out to the public-at-large," Plasse said.