Academy Award-Winning Filmmaker to Speak at Commencement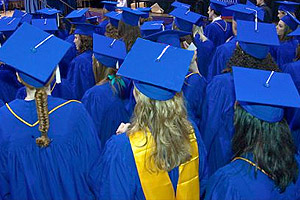 Academy-Award winning filmmaker Barbara Kopple will speak to students graduating from the School of Communication on May 8, 2010. Her powerful documentaries Harlan County USA and American Dream each won an Academy Award for Best Documentary Feature. Kopple also serves as an advisory board member for SOC's Center for Social Media. She will receive a doctor of humane letters.

Kopple has devoted her decades-long career to shining an uncompromising light on subjects as varied as striking miners, meatpackers, professional entertainers, iconic cultural events, teenage drama students, political hot-button issues, and female war correspondents, among many others.

Raised in Scarsdale, NY, Kopple made her first films while studying clinical psychology at Northeastern University in Boston. She eventually made her way to New York City where she developed her personal filmmaking style working in various technical jobs for celebrated cinema verité documentarians, the Maysles Brothers (Gimme Shelter, Grey Gardens). It was from them that Kopple learned the then-revolutionary technique of using hand-held cameras and portable sound equipment. 

At 26, Kopple took her own hand-held camera to Harlan County, Kentucky to film the often-violent struggle of the Brookside miners as they sought to unionize in the face of powerful opposition from the Eastover Mining Company. Kopple's efforts to capture the human side of the miners' fierce fight led to her debut documentary film, Harlan County, U.S.A (1976), and to her first Academy Award.

Kopple followed with other potent and provocative documentaries in her signature "fly on the wall" style, including the film which won her a second Academy Award, 1991's American Dream, about the strike of a group of Hormel meat packers.

However, as Kopple told the New York Times in a 2006 interview, the work has never been about awards. "Winning awards was the last thing on my mind when I got into the movie business. I got into it to try to tell human stories about people I think are phenomenal and whose lives are sometimes in crisis."

In 1997 Kopple went in a wholly different direction to make films including Wild Man Blues, capturing filmmaker and musician Woody Allen's jazz tour of Europe; High School Musical: The Music In You, which follows students in Fort Worth, Texas performing a stage adaptation of "High School Musical"; A Conversation with Gregory Peck; The Hamptons, a mini-series for ABC; My Generation, about the Woodstock legacy and Generation X; and Fallen Champ: The Untold Story of Mike Tyson.Most recently Kopple produced and directed Shut Up and Sing, which tells the story of the Dixie Chicks and their personal and creative response to the political fallout they faced after making comments critical of President Bush on the eve of the Iraq War. 

Kopple has gone beyond documentaries, tackling fiction filmmaking with the 1983 PBS film, Keeping On, about the unionizing efforts of Southern textile workers; moved into series television directing episodes of Oz and Homicide: Life on the Street, winning a Directors Guild of America award for Outstanding Direction for the latter. She made her first Hollywood feature, Havoc, starring Anne Hathaway; and even took on TV commercials, directing spots for companies such as Sprint, Target and the Children's Defense Fund.

As she told a CBC-TV interviewer in 2005, "Fiction directors do films that are sometimes comedies, sometimes serious drama. It's the same with non-fiction filmmakers. We don't want to be put in a box. We want to be free to breathe and to try all different kinds of methods in our work." 

Kopple is also the recipient of scores of awards, including the Human Rights Watch Film Festival Lifetime Achievement Award, Los Angeles Film Critics Award, National Society of Film Critics Award, the AFI/Discovery Channel SilverDocs Charles Guggenheim Award, New York Women in Film & Television Muse Award, the Maya Deren Independent Film and Video Award, the Woodstock Film Festival Maverick Award, and the Sundance Film Festival Grand Jury Prize, Filmmakers Trophy & Audience Award.

Kopple is a member of the Academy of Motion Picture Arts and Sciences, the Academy of Television Arts and Sciences, the Director's Guild of America, New York Women in Film and Television, the British Academy of Film and Television Arts, and actively participates in organizations that address social issues and support independent filmmaking.