Achievements
SIS Names Faculty, Alumna of the Year at Pakistan Embassy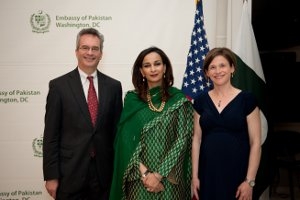 In a ceremony at the Embassy of Pakistan April 11, two members of the SIS community were honored with the school's highest faculty and alumna awards.

Professor Rachel Sullivan Robinson was named the 2012 - 2013 recipient of the F. Gunther Eyck Award, given annually since 2011 to an SIS faculty member who demonstrates dedication and devotion to teaching and students. Lisa Martilotta Lamprecht, SIS/MA '03, received the Alumna of the Year award for her work in development regarding women and youth in developing countries.

Nominator Professor Jeff Colgan said of Robinson, "She is the kind of professor who students remember years or even decades after leaving her classroom. Rachel consistently goes above and beyond the call of duty when it comes to mentoring advanced students."

Robinson, however, credited her success to those students.

"Working with students is a two-way street," she said. "Teaching is about finding ways to help people learn [and] about figuring out how to support them in that process. It is thus my students at AU who have taught me to be a teacher … without you, I would be left with far fewer opportunities to share the learning process with others."

Dean James Goldgeier described Eyck, who taught at SIS from 1959 to 2006, as a man with "a contagiously optimistic personality [who] cared deeply about his students. It was his attention and devotion to students that prompted this award in his honor," endowed by his family.

Lamprecht was nominated by friend and colleague Carlynn Spring, who praised Lamprecht as "an incredibly responsible, selfless businesswoman, fast-paced and extremely smart."

After posts in the U.S. State Department, Department of Homeland Security and with the U.S. Trade Representative, Lamprecht narrowed her career focus and moved to Kigali, Rwanda, where she became executive director of the Akilah Institute for Women, a college offering market-relevant education empowering graduates for success.
Speaking in a video from Switzerland, where she is based, Lamprecht explained her motivation.
"For me, serving people is a global thing. It's not too relevant to me exactly where I'm serving. What's important is that I'm serving an institute whose mission and people I believe in, and that's why I joined Akilah."
In her closing, she offered advice to current SIS students.
"Serving any community is important… it's about giving back to communities that are less fortunate than ours, and using your skills and knowledge to impact their lives."