Alum's Hit Series Marks 100th Episode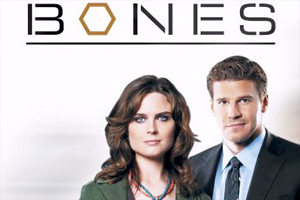 American University held a Watch Party for the AU community in the Tavern to help celebrate the 100th episode Bones, which is executive produced by Barry Josephson, '78. The hit series is inspired by the books by best-selling novelist Kathy Reichs, CAS/BA '70.
Students and alumni may have been surprised when a pivotal scene in the episode revealed that the first meeting of the two lead characters, Dr. Temperance "Bones" Brennan (Emily Deschanel) and Special Agent Seeley Booth (David Boreanaz) had taken place at an American University lecture hall – or, at least, the Hollywood version of it.
Josephson, who has earned two Golden Globe and three Oscar nominations plus a Critic's Choice Award for Best Family Film, says that he looks to the community Bones fans have created for inspiration. "I read all the blogs, I look at everything…I look at all the mash-ups," says Josephson, who insists that the show's editing is influenced by fans' creations on YouTube. "For me, this is very exciting."
He also gives back at AU, where he chairs the School of Communication building committee. "The School has long deserved the kind of facilities the new building will offer," Josephson says. He also serves as a member of the Dean's Advisory Council, an alumni mentor and as a guest lecturer in the school's Summer in L.A. and Executive Suite courses.
"There's a very successful American University community out here in L.A. working in every aspect of film and television," observes Josephson, "and I've had the pleasure of seeing just how far SOC has come in recruiting talented students and a dynamic, accomplished faculty."