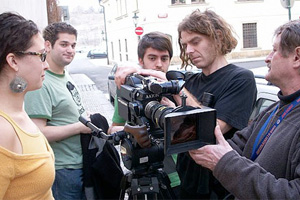 Overview:
---
The FAMU International Film Program, established in 1991 in conjunction with American University's School of Communication (SOC), is an enclave program designed for students highly motivated to produce and direct their own stories in super 16mm film. FAMU International students learn from masters in a conservatory-style environment.

FAMU, the Film and Television School at the Academy of Performing Arts in Prague, is one of Europe's oldest and finest film academies. Located in a cultural landmark, the Lazansky Palace, in the center of Prague, FAMU has played an integral role in Czech cultural history for the last sixty years, fostering the New Wave of the '60s, and serving as a headquarters for the student-led Velvet Revolution that helped end the Cold War.
Academy alumni include such famous directors and writers as Jiri Menzel, Milan Kundera, Milos Forman, Vera Chytilova, and Vaclav Havel, who continue to visit the school and lecture. The presence of such luminaries allows FAMU International students an unparalleled experience.
Students in the FAMU International Film Program study in one of the most dynamic and compelling cities in Europe while earning a full semester of University credit. Click here for FAQ
The FAMU Approach
The program's primary focus is creating an original 7- to 10-minute super 16mm narrative fiction film or a longer documentary project in video. FAMU's award winning faculty work closely with SOC students in the Film Technology and Practice seminar, the program's core course, based on FAMU's Mentor/Apprenticeship approach to education. The course includes regular consultation with members of the directing, cinematography, screeningwriting, and editing departments. The interdisciplinary seminar provides an intensive professional focus on the development, production and post-production of each student's films. FAMU faculty work with students from the initial pitch to the final screening.
Planning, Production and Editing
During pre-production of fiction films, students learn the specifics of screenwriting for the short dramatic form: working with actors, developing a film language not dependent on dialogue, and creating a storyboard. Students will also learn the complex art of casting by working with a talent agency that provides professional actors for their productions. Students doing documentary learn pre-production research and story structuring and production techniques appropriate to their subject.
In production, students collaborate with a professional-level production manager who helps bring the student films to fruition, on time and within budget. Students will learn about the importance of working with the lab, selection of film stocks for greater cinematic control, and the use of lighting for both interior and exterior productions.
---
The FAMU faculty were amazing; they helped focus our ideas and worked with us every step of the way during the making of our ?lms. I feel like the intensity of the program helped me to explore and grow professionally and artistically. --Eric Davis
---
Post-production teaches students the importance of color-grading and color-correction, graphics, special effects, sound mixing, and design. There are numerous consultations and screenings of both raw footage and rough-cut edits with directing and editing faculty, enhancing and clarifying the students' goals for their films.
Finally, students' productions are presented to the faculty and the public in separate screenings in FAMU's state-of the-art facilities. Students leave the program with a professionally completed film that makes a great portfolio addition.
Student work from FAMU International has competed at the Cannes Film Festival, been finalists for the Student Academy Awards, and won numerous other festivals around the world. 
A Wide Range of Opportunities for Students
All FAMU International classes are taught in English and students select from a wide range of related activities and electives. A variety of lecture and seminar classes are available, including: Script Analysis, Tools of Directing, Producer's Craft,Topics in Avant Garde Film, History of Documentary, Prague Stories and History of Animation. Students also may attend a FAMU International Master class, where prominent local and visiting filmmakers present their films and hold discussions with students.
Students also participate in an intensive, week-long studio lighting workshop on16mm film, working with a professional cinematographer, lighting designer and electrician on a well-equipped sound stage.
---
It's so fantastic to realize that a city really CAN suit a personality. It is the most stunning, glorious, and beautiful city I think I have ever been in. I already feel more welcomed and challenged than I have in ages. --Juliet Hutchings
---
Students take a four-day intensive, creative film workshop, "Cinema Dance," with other international and Czech students on location to create a short DV project.
And students can take weekly field trips around the Czech Republic as well as intensive Czech language lessons.  
International Recognition 
The FAMU International program provides students with an unparalled opportunity to learn at one of the finest film schools in the world while receiving college credit at their home university.
For more information, please visit the AU Abroad website and the CET website.