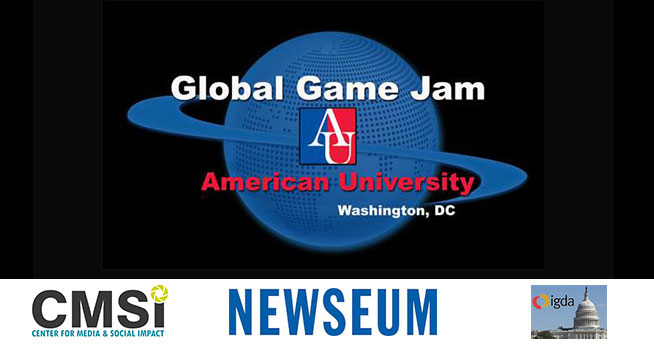 The American University Game Lab serves as a hub for experiential education, persuasive play research, and innovative production in the fields of games for change and rhetorical play. Part of a university-wide commitment to high-impact research, this multidisciplinary initiative combines the expertise of the School of Communication and the College of Arts and Sciences. Learn more about our unique Master's in Game Design and the Studio.


Global Game Jam at AU
AU, with its sponsors the Newseum and the Center for Media and Social Impact, is proud to be a host site for the 2014 Global Game Jam! The annual event encourages participants to challenge themselves and push their creativity and learning to the limit. Teams will be tasked with designing and creating digital and non-digital games over the course of one weekend.

Participants, ranging from amateurs to industry professionals, gather at each site location to create, collaborate and present innovative new games to the global community. The Global Game Jam will be held January 24-26, 2014 at American University.


Why Jam at AU?
Located in the heart of the nation's capital, American University offers a beautiful campus, with state of the art computer labs, supportive staff and faculty, and easy access to everything you will need to make your Game Jam weekend an unforgettable experience.

Our Global Game Jam co-managers, including professors Lindsay Grace and Mike Treanor, not only know game making, they love it. At AU we understand games are made with lots of input, from lots of different people. A good game team is more than a couple of good programmers, or designers with a vision—its artists, developers, and designers thrashing through cool ideas. Additional information about our location and facility details can be found here.
Meet our GGJ Co-managers

Associate Professor Lindsay Grace

Grace is a game designer and researcher. He has been teaching and designing games for more than 10 years. In 2013 his game, Critical Gameplay - Wait, was selected for the 10th Anniversary Games for Change Festival's Hall of Fame, as one of the 5 best games for social impact in the last decade. Grace has served as an independent consultant, web designer, software developer, entrepreneur, business analyst and writer. And he formerly directed one of the top 25 game design programs as the Armstrong professor of Creative Arts at Miami University. Read more.

Assistant Professor Mike Treanor 
Treanor is a game developer and theorist whose research is aimed at finding new approaches for interpretation and expression of meaning within videogames and computational media. Recently, Treanor was a design and technical lead on Game-O-Matic, an expressive videogame generator, and Prom Week, a social simulation game that was a finalist in both The Independent Game Festival and Indiecade. He has been an active participant in the field of Game Studies and has published on the subjects of videogame interpretation, tools for game creation, social simulation and procedural content generation. Read more.