The American University Game Lab serves as a hub for experiential education, persuasive play research, and innovative production in the fields of games for change and rhetorical play. Part of a university-wide commitment to high-impact research, this multidisciplinary initiative combines the expertise of the School of Communication and the College of Arts and Sciences. Learn more about our unique Master's in Game Design and the Studio.

Global Game Jam
The American University Game Lab and the International Game Developers Association (IGDA) DC Chapter bring you Global Game Jam 2015's MAGFest—Washington, DC site! The annual event encourages participants to challenge themselves and push their creativity and learning to the limit. Teams will be tasked with designing and creating digital and non-digital games over the course of one weekend.

Participants, ranging from amateurs to industry professionals, gather at each site location to create, collaborate and present innovative new games to the global community. The Global Game Jam will be held January 23-25, 2015 at MAGFest located at the Gaylord National Hotel in National Harbor, MD.

Why Jam at MAGFest?
Game Jam teams at the MAGFest - Washington, DC site will have access to unique ammenities provided by MAGFest, including access to musicians and voice talent for their games, in addition to organized playtesting times with attendees. Teams may also display their games after the Jam during MAGFest's Monday events.
This event is organized in cooperation with the Music and Gaming Festival (MAGFest) a Washington, DC-area game culture event held yearly at the Gaylord National Hotel in National Harbor, MD. MAGFest is organized by MAGFest, Inc., a non-profit organization dedicated to furthering the appreciation of games and video game music.
Meet our GGJ Manager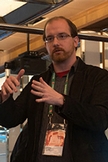 Game Artist in Residence, Chris Totten

Chris Totten, game artist in residence, is an independent game developer and founder of Pie For Breakfast Studios. He is also the chair of the Washington DC chapter of the International Game Developers Association. Totten is an active writer in the game industry, with articles featured in IGDA Perspectives, GameCareerGuide, and Gamasutra as well as two books: Game Character Creation in Blender and Unity (Wiley 2012) and An Architectural Approach to Level Design (CRC, 2014.) He has also spoken at GDC China, Dakota State University's Workshop on Integrated Design in Games, East Coast Game Conference, Digital Games Research Association (DiGRA) conference, and Games For Change. He has a Masters Degree in Architecture from The Catholic University of America in Washington, DC. Read more