This div will be replaced
Japan: Crisis in Communication
Japanese Media, Experts Debate in the Wake of Disasters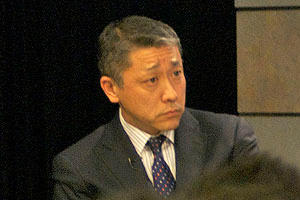 Yoi Tateiwa. Photo courtesy of Alex Haniford
Japan: Crisis in Communication was held March 24 at American University. SOC's director of strategic partnerships & programs, Sharon Metcalf moderated the panel, which included Yoi Tateiwa, chief NHK correspondent and Investigative Reporting Workshop journalist-in-residence.
Panelists:
Yoi Tateiwa, chief NHK correspondent
IRW journalist-in-residence

Prof. Quansheng Zhao, director, Center for Asian Studies

Visiting SIS Prof. Kenki Adachi, Ritsumeikan University, Japan

(via Skype) Akio Taba, Japanese digital news reporter; WCL alumnus (2010)
NEWS STORY

Japanese dissatisfaction with national coverage of recent crises may lead to a major shift in the media's willingness to accept the official line.