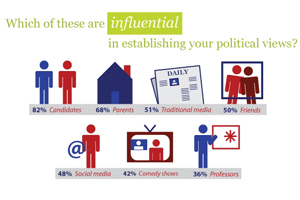 Survey for Voting Young project
Voting Young (Partner: The Washington Post)
In 2012, the Convergent class took on the issue of first-time voters while Professor Ivancin's class conducted the survey portion for Voting Young. The students were prescient in their findings, reporting -- earlier than other media -- that young voters were more excited about the 2008 election when they couldn't vote than the 2012 election when they could. The project's webmaster already was working at the project partner, The Washington Post, as an SOC Dean's Intern at the time. Other project participants are working at The White House and other prestigious institutions today.