Television & Film
Professor Showcases Latino Success Story in Award-Winning Film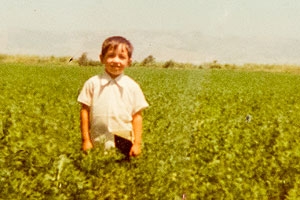 Damian Trujillo, whose family first came to the United States from Mexico through the Bracero Program, is now a NBC Bay Area news reporter, host and producer of "Comunidad Del Valle."
His success story is recorded in the award-winning documentary From the Fields: An American Journey, produced by journalism professor Carolyn Brown. The half hour documentary is a biography of Trujillo's life, from the Salinas Valley to college, and on to the NBC Newsroom.
Brown recently received the 2013 Gracie Award for Outstanding Director – News/Non-Fiction for the documentary. Other awards include, an Orson Welles Grand Award and the CreaTV Award- Excellence in Directing  for the documentary and the directing. About these accomplishments Brown says, "I'm excited about the awards [the film won], but I would like to be nominated for an Emmy!"
Gracie Awards Ceremony, June 2013
Brown began work on this film two years ago, while working on another documentary about the Salinas Valley called The Salinas Project. Her former colleague at NBC, Trujillo's story was too interesting to keep in the background, so Brown shifted focus and finished the film last summer and fall while on leave from teaching.
From the Fields documents Trujillo's journey. Both his mother and father struggled to support their family of ten while laboring in the fields of the Salinas Valley. Trujillo and his siblings worked in the fields weekends and summers starting at about 12 years old. As the first in the family to go to college, which led to a successful career as a news reporter in Spanish language television, then NBC, Brown says his story is impressive, but not as rare as one may think. 
According to Brown, Trujillo's journey is typical, as many children of immigrants become accomplished. However, Brown says, "It's unusual in that he's on TV," a highly visible rejection of some of the negative stereotypical images of Mexican-Americans as undocumented immigrants, housekeepers, and gang members. "What this is, is an oppositional representation of Latinos," says Brown. It puts forth a positive image of hard-working Latinos. As the daughter of a Latino immigrant, Brown says her work is very personal. Asked why she chose to produce the film, she says, "I see myself as a journalist, a filmmaker, and an activist for the Latino community."
Brown approached NBC about the documentary, and NBC decided to run with it. She produced it for broadcast "because I worked for TV, I like TV," she says. From the Fields was distributed nationwide to NBC affiliates and has aired in many of the top U.S. media markets.
Brown and Trujillo also embarked on a nationwide tour of screenings of the film at several premier universities around the country.