Journalism
Ethnic Media, Investigative Journalists Share Skills at SOC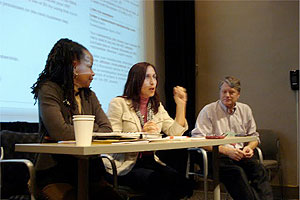 More than 30 journalists from D.C.-area black, Latino, East and South Asian, Muslim and Ethiopian media outlets learned investigative-reporting techniques to help them cover everything from stimulus spending to immigration in a two-day workshop at American University School of Communication.

Investigative Reporters and Editors organized the workshop, co-hosted by New America Media and SOC, as part of a national series of ethnic-media workshops funded by the McCormick Foundation. The workshop at SOC, held Oct. 17-18, was the first in the Washington, D.C., area.

"Ethnic media cover the stories that otherwise would never be reported," said Mark Horvit, executive director of IRE.  

The two-day workshop was part of SOC's ongoing partnership with NAM, the nation's first and largest ethnic-media collaborative, to reach out to D.C.-area ethnic media.  

Last year, SOC and NAM co-hosted the first-ever Washington, D.C., Regional Ethnic Media Awards. Students in professor Angie Chuang's Race, Ethnic and Community Reporting class do research for and write stories for New America Media.

At the opening of the two-day workshop, Sandy Close, the founder and executive director of NAM told the ethnic-media reporters, editors and publishers who attended that they would each receive a membership to Investigative Reporters and Editors.

"Once you're a part of IRE, it's like having a credential. You're all connected to each other," Close said, citing recent collaborations between the investigative-reporting organization and ethnic-media journalists. Most notable of these was the Chauncey Bailey Project, an award-winning probe of the murder of a black ethnic- and traditional-media journalist in Oakland, Calif.

Charles Lewis, executive editor for SOC's Investigative Reporting Workshop, a workshop speaker, called ethnic media and investigative-reporting organizations like IRE and IRW "a great confluence" of groups that can mutually benefit from each other:  

"Not only will investigative-reporting knowledge and techniques embolden and strengthen ethnic media," said Lewis, a distinguished journalist in residence at SOC, "but ethnic media will also help inform investigative reporting in an area that has not gotten enough attention and energy."

Other speakers at the workshop included Ron Nixon, projects reporter for the Washington bureau of The New York Times, N.C. Aizenman of The Washington Post, Jennifer LaFleur of ProPublica and Denise Rolark Barnes of The Washington Informer.

Noor Tagouri, 16, who interned at The Muslim Link, a College Park, Md.-based newspaper, came to the workshop at SOC to follow in the footsteps of her journalistic hero.

"I am so fascinated by Nellie Bly," Tagouri said, referring to the late-19th-century reporter who posed as an inmate in a woman's asylum to expose conditions there. "She was a pioneer for women in investigative journalism."

Nixon helped attendees demystify public records on stimulus spending. He himself started his career in the ethnic media, with the South Carolina Black Media Group. He noted that while mainstream daily newspapers lose readership, ethnic media's audience is growing.

"As daily newspapers cut back, ethnic-media journalists are the people who will still serve as watchdogs," Nixon said.

Dereje Desta, publisher and editor in chief of Zethiopia newspaper, which serves the area's Ethiopian immigrant community, said he was particularly interested in learning how to explain the economy and stimulus funding to his readership.

"I want to understand what it really means and tell my community," he said. "How does the stimulus package affect us?"

Desta met WAMU 88.5 reporter and Patrick Madden, SOC/MA '06, at the workshop. Madden asked Desta where he was from – it turned out Madden was working on a story on the D.C. area's Ethiopian immigrant community.  

Madden said he came to learn more about investigative reporting, but also to get story ideas and sources for his community affairs beat.

"The region is so diverse," he said. "Community-affairs reporting really represents so many different communities here."