Achievements
Student Scores Stint with Daily Show's D.C. Crew
By Adell Crowe
September 16, 2010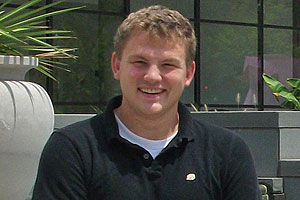 Grad student Peter Kimball credits the American University School of Communication and a production assistant training seminar it hosted with helping him snag a two-week job on the crew of the Daily Show with Jon Stewart.
Because the production assistant job is largely about lugging equipment and running errands around Washington, D.C., he admits that being able to drive a van didn't hurt.
"Being a production assistant doesn't require very much specialized knowledge - it's an entry level job," Kimball said. "However, the PA seminar gave a me very valuable explanation of what the responsibilities are and how a large production operates. I probably would not have gone to the seminar if it hadn't been hosted by American," he said.
The one-day workshop by Production Assistant Training Seminars was held over the summer at AU, and was sponsored by the D.C. Film and TV Office. The multi-faceted training certified 50 people, including 10 AU students, to work on film crews.
Kimball will be working on The Daily Show when it broadcasts from Washington, D.C., Oct 25 - 28. The show is billing its pre-election coverage as "Indecision 2010: When Grizzlies Attack" and "The Daily Show Midterm Teapartyganza." The show airs Monday through Thursday at 11 p.m. on Comedy Central.
A second-year MFA candidate who graduated from Brown University, Kimball was told he'll spend his first week on the job turning the Shakespeare Theater's Sidney Harman Hall into a set. The second week he expects to be running errands and driving crew around DC. Having learned the Avid film editing program at AU, he says "I might be logging footage for the show."
The two-week gig fits nicely into Kimball's career plans to write for television and film. "I think learning as much as I can about all aspects of the entertainment industry is important. Also, everyone loves the Daily Show so I think it's a great name to have on a resume," he said.
"I would be excited to work for the Daily Show even for free, so getting paid to work for the Daily Show is perfect."