Journalism
Student Journalists Crack Koch Code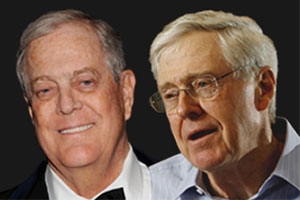 After nearly three years of intensive research, American University's Investigative Reporting Workshop has issued a report that shows in unprecedented detail the broad and ever-widening reach of Charles and David Koch, among America's richest and most powerful men. The report lays out the Koch brothers' multi-million-dollar support for a vast network of think tanks, interest groups and lobbying shops advancing the brothers' free-market, limited-government philosophy. The report also reveals the brothers' increasing efforts to promote that philosophy on hundreds of the nation's college campuses.

As for-profit news media organizations across the country continue to cut staff and budgets, college-based journalism centers like the Workshop, a project of AU's School of Communication, are picking up the slack on complicated investigative ventures such as this one. The Workshop may be "scrappy by design," as founding executive editor and SOC professor Chuck Lewis maintains, but given the current—and predicted—state of the journalism industry, the Workshop's vital impact on public-policy debates can only increase.

"I thought this would be a great demonstration project of the possible," Lewis explains. Journalists, he says, only partly joking, "don't ever read documents." Their reporting is largely done "from the plane, from 10,000 feet," he says. But diving deep into the records, analyzing "three, four, five, six data sets" as he had his students do—that's something else again. "The Koch Report" is the Workshop's largest project involving students since its 2009 launch.

And for the students, including many who came to the project through Lewis' In-Depth Journalism course? It was, says Lewis, "a great lesson in how the real world works." And an equally important lesson—documents first, interviews later (if necessary)—in how to practice the craft.

"They learned that journalism is a process, that it has sequencing to it, that you don't talk to people until you know what you're saying," said Lewis. "Most journalists don't fully grasp how valuable public records are, how rich a treasure trove they are."

Some two dozen students all but three from AU—the others from Stanford, Georgetown and the University of Missouri—teamed with professional journalists and served as researchers, reporters and editors on the project; the Workshop's managing editor Lynne Perri was the report's overall editor. 
The students reviewed five years of Koch tax records, tracing contributions from the Koch brothers themselves, from Koch Industries and from a web of Koch-funded foundations and other charities. The students also looked at recipient groups' mission statements, their programs, their congressional testimony and their lobbying efforts and built a database of 4,000 Koch-connected individuals to better identify the "commonalities," among the various key players and their organizations.

The students hit pay dirt.

While the records were publicly available, it seems they had not been reviewed, let alone analyzed, in such a coordinated, multi-front fashion. And the picture that emerged? "(A)n extraordinary alchemy of political and lobbying influence, nonprofit public policy underwriting and educational institutional support."

Released July 1, "The Koch Club" has already received major news media coverage. The New Yorker highlighted the Kochs' success at getting hundreds of public officials nationwide to sign a "no climate tax" pledge, promising not to spend any federal money to combat climate change without approving an equal amount in tax cuts—in practical terms, a roadblock to any new environmental legislation. The Columbia Journalism Review, for its part, cited the workshop's "painstaking work" and "Herculean efforts" to follow the money as a model for "untangling complex donation structures."

Lewis phrases it more concisely: "Peeling back the onion."

"It's a cool thing," he continues, "when you juxtapose" data sets, records from the IRS and the Federal Election Commission, for instance, plus contribution and lobbying reports.

"And when you pull it together, you can see everything!"