Communications
Sheila C. Johnson Challenges Graduates to Tell Stories that 'Illuminate the Human Condition'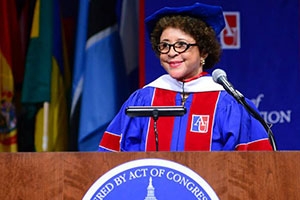 Successful entrepreneur and impassioned philanthropist Sheila C. Johnson delivered an inspiring address to the 2015 School of Communication (SOC) commencement ceremony May 9 at American University (AU). She exhorted the graduates to "mobilize us from awareness to meaningful action" on pressing issues facing the country. Johnson, CEO, Salamander Hotels and Resorts and vice chairman, Monumental Sports & Entertainment, received an honorary Doctor of Humane Letters degree.
Johnson asked graduates to leverage new technologies in their work while remaining committed to ethics and accuracy. She also argued that finding and sharing untold stories could be particularly rewarding. "When you help other people tell their story, you find yourself lifted," she said.
As an example, Johnson spoke about "The Other City," a 2009 documentary she produced at a time when Washington, D.C. had the highest rate of HIV/AIDS in the nation. The film explores the crisis through the eyes of those living through it. Since then, D.C.'s HIV infection rate has fallen, and Johnson said that while she knows that her film, which screened at the XVIII International AIDS Conference (AIDS 2010), was not entirely responsible for this decline, she does hope that it played a part by focusing attention on a public health problem using a personal lens.

Johnson has long been a powerful influence in the entertainment industry, starting with her work as founding partner of Black Entertainment Television. She served as executive producer of four documentary films and helped finance the Screen Actors Guild nominated feature film "The Butler," directed by Lee Daniels.
"She's been a trailblazer throughout her career," said SOC Dean Jeff Rutenbeck. "Many of our students share her passion for media entrepreneurship and having a positive impact on the world through your work."
A fervent supporter of education and the arts, she serves on several boards including Parsons The New School for Design, and is founder and chair of the Middleburg Film Festival. She is a member of the Leadership Council at Harvard Kennedy School's Center for Public Leadership.
Attendees also heard from two graduating students, Richard Fields (SOC/M.F.A. '15), an independent filmmaker who has racked up an impressive record of festival screenings and professional portfolio and Mark Lieberman (SOC/B.A. '15) a journalism major with a minor in cinema studies who leaves AU with several internships and an impressive list of celebrity interviews under his belt.
Families and friends who could not make the ceremony can watch video of the speeches on the American University website and find photos and reflections at the hashtag #2015AUGrad.