Achievements
American University Communication Students Land Pulitzer Fellowships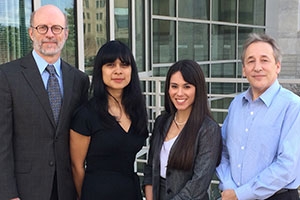 American University communication Ph.D. student Kara Andrade and graduating journalism major Julia Boccagno have been named 2015 recipients of the Pulitzer Center Campus Consortium International Reporting Student Fellowship. Andrade's reporting project will investigate the use of information and communication technologies (ICTs) in Mexico for transparency, activism and citizen reporting, as well as the increased risks this presents to citizens. Boccagno's work will explore the marginalization of the transgender community in Thailand.
"We are eager to see the stories these investigations will uncover, and the impact those stories will have," said Jeff Rutenbeck, dean of the School of Communication (SOC).
The fellowships, open to all AU students, are one of the benefits of SOC's membership in the Pulitzer Center on Crisis Reporting Campus Consortium. The Campus Consortium initiative is a core component of the Pulitzer Center's effort to create awareness campaigns around the global systemic issues that affect us all.
The students were chosen based on a project proposal involving an underreported systemic issue. Each student fellow will be awarded $2,500 to help pay for the reporting project. Pulitzer Center staff and journalists act as mentors for students throughout the fellowship, with final products featured on the Pulitzer Center website. Fellows also work with the Pulitzer Center in efforts to further disseminate the work through media partners.
AU's Center for Latin American and Latino Studies (CLALS) is a contributing partner to this initiative and its Luce Foundation-funded work on religion and Latin American affairs is supported by Andrade's research, which will also address the use of the Internet by the Mexican religious community to counteract rampant violence, including attacks on priests and layworkers, in the Mexican state of Guerrero.
Meet the Fellows:
Kara Andrade
Kara Andrade is a researcher, journalist and entrepreneur who focuses on Latin America, media, technology and society. She has more than 10 years of experience working in the United States and Latin America as a bilingual journalist, entrepreneur and multimedia producer for many leading media organizations. Project summary
Julia Boccagno
Julia Boccagno's innate inquisitiveness and curiosity inspired her to pursue a major in broadcast journalism and a double minor in international studies and Italian at American University. She hopes to use her expertise in these fields to investigate and report global development and human rights issues to mass audiences through multimedia platforms. Exploring unfamiliar areas of the world have allowed her to appreciate the complexities of the human experience and of the world. She has found that journalisms also serves as a tool of unity--one that discourages from passing judgment on others. She will receive her undergraduate degree in May 2015. Project summary